A few months back I reviewed what I consider to be one of the best development boards on the market today, the Beagle Bone Black. In that time I have grown to realize the true potential that is locked inside the Beagle Bone Black, and unlike the Raspberry Pi (another favorite of mine), the Beagle Bone Black has much more I/O to share even when connected to a massive LCD touch-screen.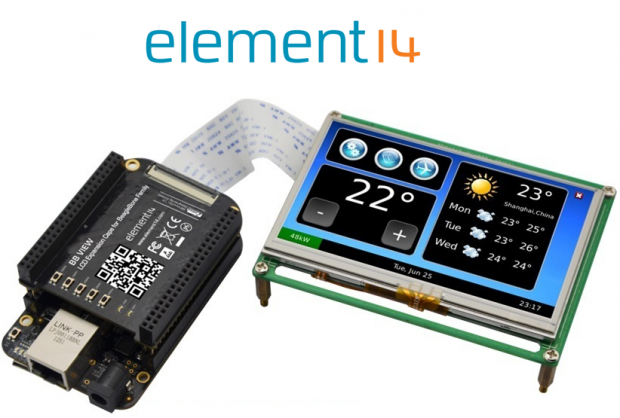 Recently, Element14 unveiled one of the coolest "Capes" for the Beagle Bone series to date. Dubbed the Beagle Bone View, these new add-on LCD screens come in 4.3-inch and 7-inch sizes and feature a 4-wire resistive touch panel. The 4.3-inch model features an effective resolution of 480x272 pixels while the 7-inch version has a slightly higher resolution of 800x480 pixels. The boards are powered directly from the Beagle Bone Black or Beagle Bone with no external power connection needed to the screens.
The BB-View has been designed with convenience in mind and extends the I/O interfaces of the BeagleBone & BeagleBone Black allowing users to utilize a touchscreen LCD display without sacrificing I/O interface access. BB-View fits on top of the BeagleBone or BeagleBone Black and still has full access to all the GPIOs via two 46-pin connectors. It's equipped with five switches (four for GPIOs & one for Boot) and two user defined LEDs.
The included "Cape" module features full access to all 92 GPIO pins and features five switches, two user defined LEDs and a flexible FPC Cable similar to the one used on the Raspberry Pi camera module. The length of the cable is limited, but is long enough to position either LCD in any project. The 4.3-inch and 7-inch BB View LCD Screen Cape's retail for $79 and $119 respectively from Newark.com / Element14.