Razer paid $380,000 for green USB ports used in Blade notebooks
For Razer, USB ports had to blend with its primary theme colour 'acidic green', and spent $380,000 in research, development and testing.
Published Thu, Mar 13 2014 7:32 PM CDT
|
Updated Tue, Nov 3 2020 12:18 PM CST
Razer updated its Blade series thin-for-a-gaming-laptop system with the newer GTX 800M series video card, and its 14" model using a QHD+ resolution.
To maintain a particular form-factor, design and maintaining aesthetics true to Razer's brand name, it goes without saying that the company will spend a lot of money on research and development. Its now known that Razer spent $380,000 for redesigning the standard USB port's colour.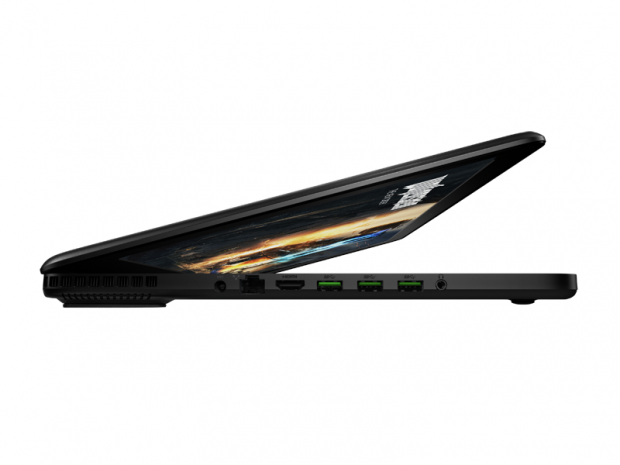 Razer didn't do any changes to the USB as a hardware, but wished to replace the USB 3.0's blue plastic colour to a custom one that fitted with their brand's theme: black and acidic green.
Apple is known to change the colour of its system's USB ports to off-white. Certain motherboard manufacturers also use the choice of red or yellow to indicate a certain feature: USB Bios flashback, dedicated charging port. But in Razer's case the USB port with acidic green didn't exist. Razer had to make sure that they've signed up with a manufacturer who will not or couldn't sell the USB ports with acidic green to other manufacturers. The gaming peripheral manufacturer also sent its own team of specialists to the manufacturing plant to ensure that the shade of the green is the same as the logo itself. Razer also spent a lot of time testing to ensure that the colour will not fade away.
At the end of the day, for a lot of us its just a piece of plastic that helps us to differentiate USB 2.0 from 3.0- or from other USB types with a certain feature. For Razer, it was aesthetics and design that had to catch people's attention.
Related Tags