MWC 2104 - SoC's centered around smartphones were a big topic at this years Mobile World Congress with big hitters like Qualcomm and Broadcom announcing several new chips designed to carry mobile communications into the next-generation. Samsung was not to be left out of the party either and has announced two new additions to its Exynos line of mobile SoCs.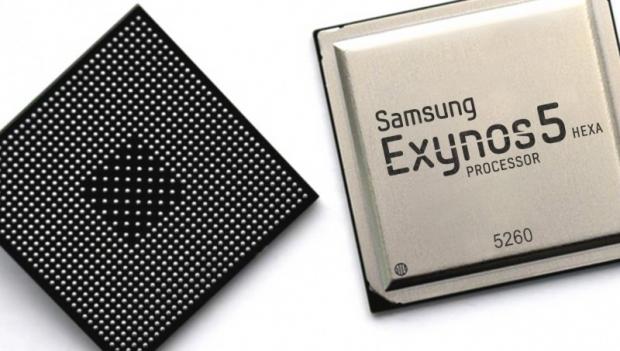 The Samsung Exynos 5 Octa 5422 is an updated version of the Exynos 5 Octa 5420. The SoC features four ARM Cortex-A15 cores and four ARM Cortex-A7 cores in what is known as a big.LITTLE configurations. Clock speeds are set to 2.1GHz and 1.5GHz respectively, and the SoC supports heterogeneous multi-processing just like its predecessor. This means that the computationally intensive task are handled by the ARM Cortex A-15 cores while the low-level duties are passed off to the lighter Cortex A-7 cores. Additionally a dual-channel 32-bit LPDDR3-1866 memory controller is featured as well as a Mali-T628 MP6 GPU. An integrated modem is not present in the SoC though, which means manufacturers will have to look to solutions such as Intel's recently-announced XMM 7160 chip for LTE connectivity.
Samsung also unveiled the new Exynos 5 Hexa 5260, a six-core SoC which also utilizes a big.LITTLE configuration. Two ARM Cortex-A15 cores are paired up with four ARM Cortex-A7 cores with clock speeds at 1.7GHz and 1.3GHz respectively. The 5260 also features a 32-bit LPDDR3-1600 memory controller and HMP support, making it a very tempting processor for applications where low-power draw is ideal. Word on the street is that the Exynos 5 Hexa 5260 will make its way into the Galaxy Note 3 Neo which is slated for a spring launch.