While the general conscious is that the Galaxy S5 is nothing to get terribly excited about, the phone does bring a few new features to the market and it can now lay claim to being the fastest gaming smartphone in the world. Today Rightware announced that the Samsung Galaxy S5 scored high enough in its Basemark X benchmark to claim the number one spot on its fastest smartphones list.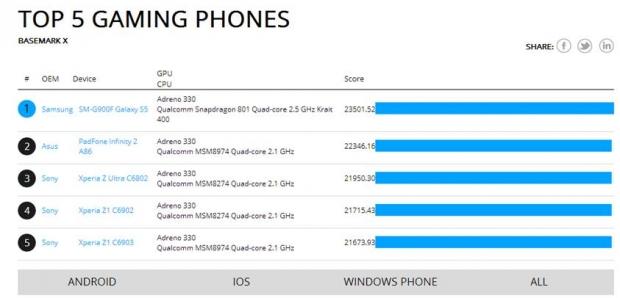 Featuring a quad-core Qualcomm Snapdragon 801 processor clocked to 2.5GHz and an Adreno 330 GPU, the Galaxy S5 was able to obtain a Basemark X score of 23501.52 which is 1155.36 points higher than its closest competitor the ASUS Padfone Infinity 2 which runs the Qualcomm MSM8974, a quad-core processor clocked to 2.1GHz. The Galaxy S5 also beat out the Sony Xperia Z Ultra, and both variants of the Xperia Z1.
"Basemark X by Rightware is a professional gaming performance benchmark for objective cross platform comparisons between Android, iOS and Windows Phone 8 devices.Basemark X features heavy graphics content and pushes tested devices to the limit. As the only professional benchmark built on top of a real-world game engine Unity 4.2.2, Basemark X reflects the real-world graphics performance of smartphones and tablets when rendering future 3D games. In the end of the tests, Basemark X produces a high quality and objective score, which can be compared against the scores of other devices on Rightware's official database Power Board, which collects results from over 1000 smartphones and tablets. "
To download basemark X for your device visit the source links below.