Dell recently announced availability of the PowerEdge R920 server that utilizes Intel's new XEON processor E7-4800 v2 and it is already making a name for itself. Dell claims it is their highest performing server and that it is built for the most intense enterprise workloads - ERP, large databases, HPC, etc.

Backing those claims up, Dell just released some pretty impressive benchmarks, taking the lead in a few categories seen here. Posted on Dell's tech forum is this snapshot demonstrating nearly double the performance of previous generation Power Edge servers in a SAP benchmark test:
And from Intel's benchmark tracking site, they now hold several world records in the 4 socket category: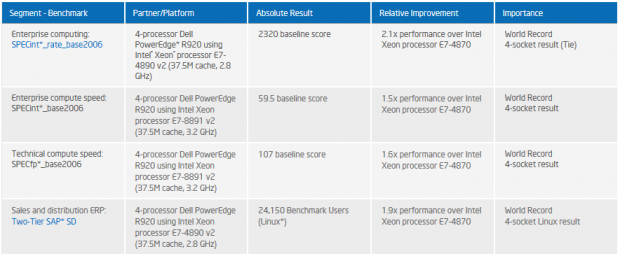 Digging into the specs it comes with 96 DIMM slots, up to 10 PCIe Gen3/Gen2 slots, up to 24 internal drives, 12Gbps SAS, and a high performance RAID controller. To see more, view this video of Dell engineers opening the server up for a closer look.