ROCCAT's Kone series of gaming mice are some of the best on the market today, and its Kone Pure Color line allows for optimum gaming performance while breaking the black gaming mouse mold. This week, ROCCAT announced the release of the new Phantom White Kone Pure Color to the line of colorful peripherals.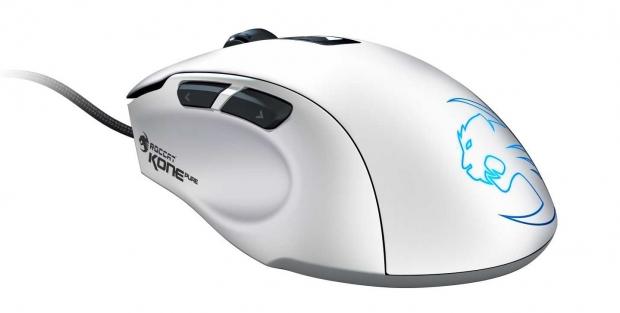 Much like the other Kone Pure mice, the Phantom White version of the Kone Pure Color features a high-end 8,200 DPI Pro-Aim R3 laser sensor and high quality Omron switches. The mouse includes exclusive ROCCAT Technology such as Easy-Shift[+], Easy-Aim and ROCCAT Talk that ensures you have an edge over the competition that will land you in the top spot at the end of the match.
The original Kone was the first product ROCCAT developed in 2008. CEO and Founder René Korte, reminisces about the beginning days of ROCCAT: "Early on, I was involved in the professional gaming scene. So, I was aware of the many professional players who were dissatisfied with their gaming devices. Since then our overall mission has been to build high-quality peripherals that satisfy the needs of all ambitious gamers."

Five years later, known for its powerful performance, the Kone series is one of the most successful gaming devices in the world. Although the Kone series has set new standards for gaming mice, the evolution will continue.