Jeri Ellsworth talks CastAR VR and why Valve let her go
Jeri Ellsworth introduces us to CastAR VR and discusses her time at Valve in a newly released video.
Published Mon, Oct 14 2013 10:46 PM CDT
|
Updated Tue, Nov 3 2020 12:20 PM CST
Today Jeri Ellsworth released a new video on her YouTube channel that gave us a look into what has been going on in her world since she was let go from Valve. Jeri says she has been working on a project that was started about two years ago when she was recruited by Valve to develop an all new way to play video games using augmented reality and virtual reality.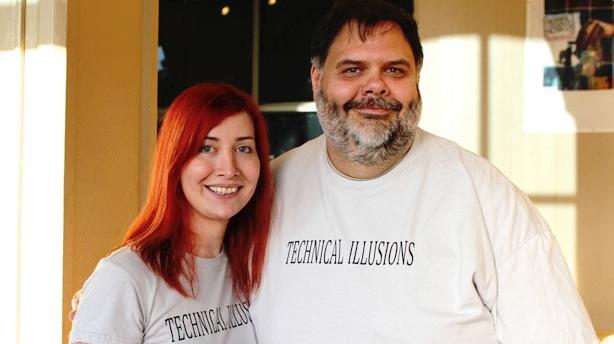 To summarize a long story, Jeri stumbled across a neat effect using special image projection glasses and a sheet of retro reflective material. When combined, the two pieces of technology created a beautiful holographic gaming experience that does not cause headaches from eye strain. Jeri said that she had a hard time selling the new discovery to Valve as they did not see how this could fit into the types of games they were developing.
Jeri teamed up with a developer at Valve named Rick Johnson who began developing games for the system in his spare time after hours at Valve. Jeri continued working on the headset and managed to shrink it down drastically and at the same time, she developed a "magic wand" that was used to control characters on the gaming surface. The gaming system became popular and Jeri says that Valve employees would stop by her office at the end of the day and spend hours playing games on the system.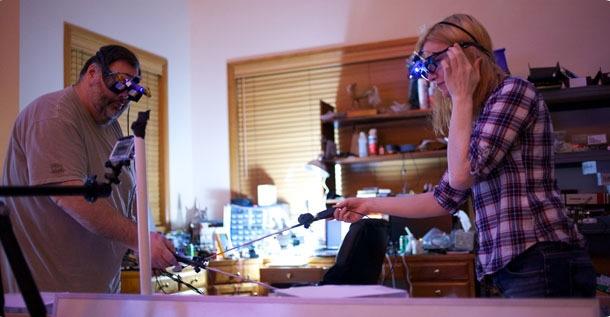 Then one day everything seemed to fall apart. Jeri says that she was on her way to her office one morning when a co-worker informed her that Rick had been fired. Jeri said that when she spoke with Rick, he informed her that she too was expected to get a pink slip. Shortly thereafter she was called to Valve CEO, Gabe Newell's, office and was informed that she was being let go. Jeri says that instead of giving up on the project, she asked Gabe to give it to her, and much to her surprise, that's just what he did.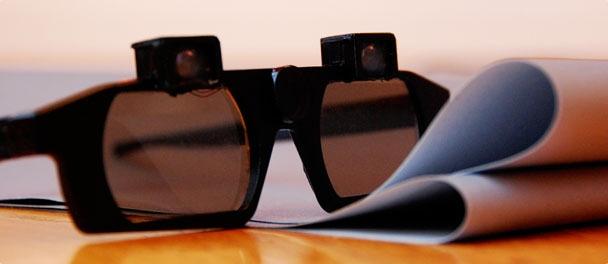 Fast forward to this morning, and Jeri and Rick have spent the last several months developing what they are calling the castAR, a Augmented Reality / Virtual Reality pair of glasses that is used in conjunction with a "magic wand" controller and a retro-reflective surface. Jeri and Rick have worked hard and today launched a Kickstarter project to help them fund the gaming device into production. The Kickstarter campaign says that the production pair of castAR glasses will weigh around 100 grams, which is very close to what a normal pair of sunglasses weight today.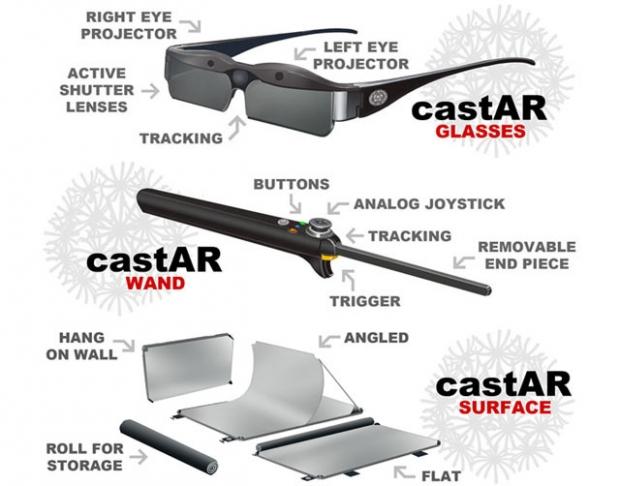 Pledges of $60 or more will land users a Magic Wand controller, while a $75 pledge lands you the tracking package. $85 will secure backers the companies RFID Tracking Grid, and the fun really begins at $189 which ensures you a starter kit. This kit includes a 1 meter by 1 meter retro-reflective surface and a pair of castAR Glasses. $285 will get you the Pro Package which includes the castAR glasses with its built in tracking system, the large 1 meter by 2 meter surface, the Magic Wand, and the AR & VR Clip-On. This is a complete package for experiencing projected augmented reality, full virtual reality, and full augmented reality. The list goes on with packages that cost as much as $10,000.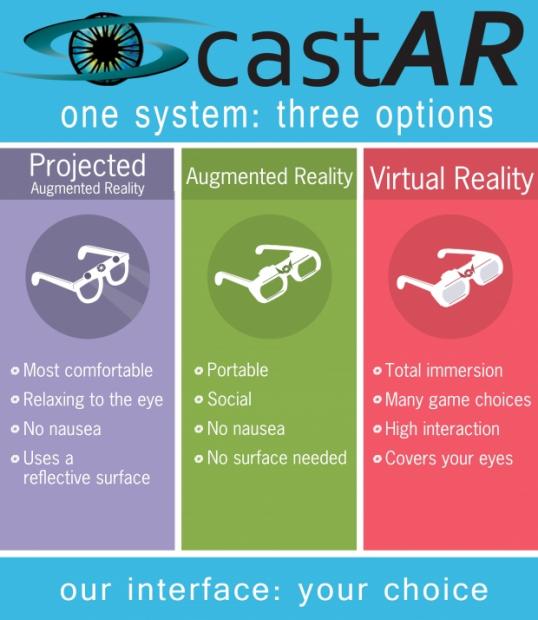 Being a maker, the news that Jeri Ellsworth is hosting a Kickstarter Campaign really excites me. I have followed Jeri for many years now and every project she does, serves as a motivator and inspirator to me. Her backstory further fuels the inspiration as she is a self taught electronics genius. I have reached out to Jeri and her team, and will be sitting down with them at the end of this month for a full interview session. So stay tuned to TweakTown for the full rundown on castAR and my interview of the lovely Jeri Ellsworth!
Related Tags