VMWorld 2013 - Today, Mellanox and LSI announced the results of a collaborative solution they designed to enable greater virtual desktop density per server based on VMware's Horizon View technology. This new low-latency solution is built using a Mellanox 40GbE NICs and the LSI Nytro MegaRAID application acceleration card.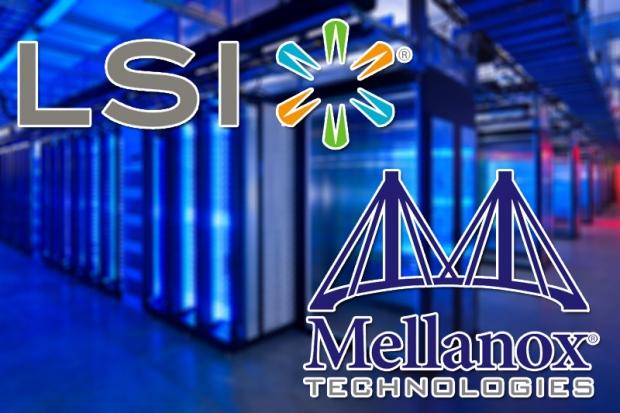 The two devices once paired up create a unique solution that integrates onboard flash capacity with intelligent caching software and hard drive rate management. This gives the customer a new lower cost alternative to traditional storage solutions. Mellanox and LSI say that this solution enables the virtual desktop infrastructure workload to support up to 1500 desktops across 10 vSphere servers with a hardware cost of less than $25,000.
"Providing acceptable response times to virtual desktop users while maximizing the number of desktop sessions per server can be challenging," said Manish Muthal, vice president of product management and strategy, Accelerated Solutions Division, LSI Corporation. "The low-latency LSI Nytro MegaRAID card, combined with Mellanox's 40GbE NICs, delivers an intelligent and cost-effective VDI solution compared to all-flash solutions that can cost upwards of $100K."
"Mellanox 40GbE interconnects teamed with LSI PCIe flash cards optimizes VDI environments and provides unmatched cost-performance benefits." said Kevin Deierling, vice president of marketing at Mellanox Technologies. "The hardware offload capabilities embedded in our 40GbE NICs overcome the limitations of ordinary TCP/IP interconnects, thereby allowing servers to efficiently connect to the storage subsystem and take full advantage of the performance of flash storage in a VDI environment, and eliminates redundant and costly SAN infrastructure."
"A high density VDI environment can benefit from low latency storage," said Mason Uyeda, senior director, technical marketing, End-User Computing, VMware. "This solution demonstrates the potential performance of an economical enterprise-class implementation using VMware Horizon View."