The owners of the popular "Open Source" legal advice website Groklaw announced today that they will follow in the footsteps of Lavabit and close their doors forever. The official announcement says that Groklaw planned to shut down after Lavabit's owner announced that he had stopped using email and that if we "knew what he knew then we would stop too."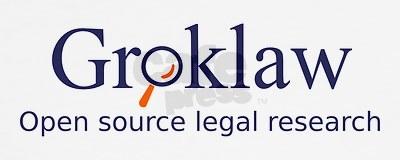 That announcement must have shook the Groklaw owners to the core as they say that without secure email there is no way their website can continue to exist. The official announcement goes on to hit on topics such as Scripture, 9/11, and even into the personal break-in and burglary of the owner's home. I feel like Groklaw is taking the situation as an easy way out and using recent events as a scapegoat to justify the closure of their website. Below is an excerpt from the official announcement which can be found at Source #2 below.
There is no way to do Groklaw without email. Therein lies the conundrum... What to do? I've spent the last couple of weeks trying to figure it out. And the conclusion I've reached is that there is no way to continue doing Groklaw, not long term, which is incredibly sad. But it's good to be realistic. And the simple truth is, no matter how good the motives might be for collecting and screening everything we say to one another, and no matter how "clean" we all are ourselves from the standpoint of the screeners, I don't know how to function in such an atmosphere. I don't know how to do Groklaw like this...

If you have to stay on the Internet, my research indicates that the short term safety from surveillance, to the degree that is even possible, is to use a service like Kolab for email, which is located in Switzerland, and hence is under different laws than the US, laws which attempt to afford more privacy to citizens. I have now gotten for myself an email there, p.jones at mykolab.com in case anyone wishes to contact me over something really important and feels squeamish about writing to an email address on a server in the US. But both emails still work. It's your choice.

My personal decision is to get off of the Internet to the degree it's possible. I'm just an ordinary person. But I really know, after all my research and some serious thinking things through, that I can't stay online personally without losing my humanness, now that I know that ensuring privacy online is impossible. I find myself unable to write. I've always been a private person. That's why I never wanted to be a celebrity and why I fought hard to maintain both my privacy and yours.