Computex Taipei 2013 - ADATA's SX series branding has always been associated with LSI SandForce controllers. Even before SX, the S Series products like S510 and S511 were LSI SandForce. It's been quite some time since we've seen ADATA using a Marvell controller. The last time I can think of is at Computex three years ago when ADATA closed a section of their booth so we could test a then new SATA III product based on the same controller used in the Crucial C300, the world's first SATA III controller.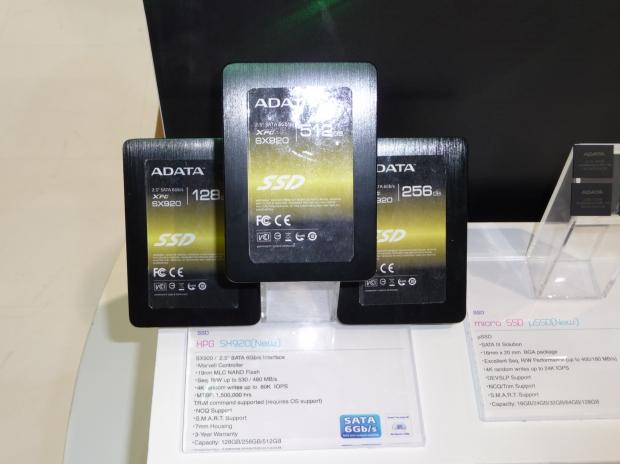 Looking to increase diversity to the brand, the SATA SX920 uses a Marvell controller and appears to be ready for entry into the channel. We suspect this is the same controller used in the SanDisk Extreme II and Plextor M5 Pro Xtreme. Talking to the product manager at the show, we learned that SX920 uses Type C Toggle NAND, the good stuff that everyone wants but few are getting access to.
With 20nm yields down and next-gen LSI SandForce stuck somewhere in 3Q or 4Q, ADATA needed a product to compete with M500 and Extreme II. Personally I would have liked to have seen ADATA not follow the SX product naming scheme and release this under a different name since SX920 is quite a bit different than SX900 and SX910. The five-year warranty from the SX910 didn't carry over either.