Australian telco, Kogan Mobile, kicks customer off their network for the overuse of his phone
Kogan Mobile kicks customer off their network, says he was using his phone too much.

Published Tue, Mar 19 2013 12:39 AM CDT
|
Updated Tue, Nov 3 2020 12:24 PM CST
Kogan Mobile is in the headlines again, this time for booting a customer off their network for abusing their mobile phone plan. The telco offers an unlimited calls and text pre-paid plan that includes 6GB of data for $29, something they launched in December last year.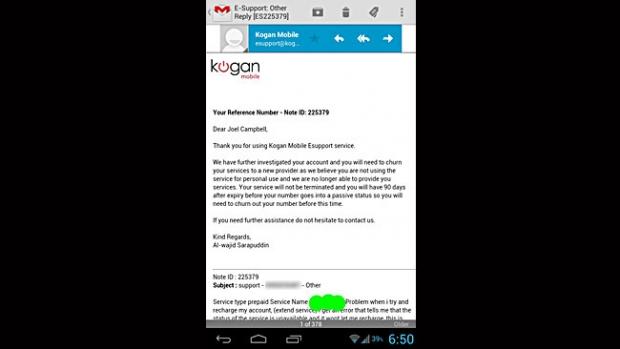 Brisbane customer, retail store manager Joel Campbell, was kicked off of the network, with Kogan claiming he was not using his service for "personal use", giving him 90 days to find a new provider. Within section 1.1 of Kogan Mobile's terms of service, they state that their network must be used for "personal use only" - the big problem is that in this seven-page ToS document, it does not state that heavy users would be kicked off of their service.
Campbell said "I have no reason to need a business phone," admitting he was a heavy user, saying that he accessed the Internet on his phone a lot during the day, but didn't think the cancellation of his service to Kogan was "warranted." He adds: "I'm paying for it. At the end of the day if I want more, I'll pay for more. It's not a loss to them."
The retail store manager has since lodged a complaint with the Telecommunications Industry Ombudsman, who are investigating the incident.
Related Tags