Before it has even been purchased by most consumers, Sony's Xperia Z has been rooted
Sony Xperia Z gets rooted, all before it has been consumed around the world.

Published Wed, Feb 20 2013 1:36 AM CST
|
Updated Tue, Nov 3 2020 12:24 PM CST
You might not have even heard about Sony's Xperia Z, or you haven't had the time to grab one, or it's not available in your country yet - whatever the situation, the latest and greatest handset from Sony has already been rooted.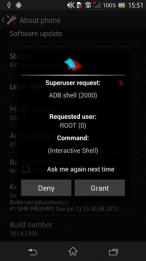 The XDA Developers forum is at it again, with the device being rooted already - how was it done? Modifying the code of a Nexus 4 root, while leveraging Teamviewer to remotely test it on a real-world device. Others have come in saying that the trick used isn't just a one-time occurrence, but should be repeatable. The hack, like most, is risky and currently lacks a recovery tool.
You can read more on it, and even try it right here.
Related Tags