Mozilla, Google show off cross-browser video chat using WebRTC
Google and Mozilla tout WebRTC, make a call to each other via Firefox and Chrome.
Published Mon, Feb 4 2013 9:21 PM CST
|
Updated Tue, Nov 3 2020 12:24 PM CST
Google and Mozilla are pushing WebRTC as the future of software-independent video and voice chat. To show off the capabilities, Mozilla called up Google from Firefox to Chrome to demonstrate the cross-browser functionality that is available via WebRTC. Of course, to do this, you'll need the latest builds of both browsers.
Mozilla's blog post talks up the new technology and open source:
Mozilla is excited to announce that we've achieved a major milestone in WebRTC development: WebRTC RTCPeerConnection interoperability between Firefox and Chrome. This effort was made possible because of the close collaboration between the open Web community and engineers from both Mozilla and Google.
Google's blog post is similar:
For the first time, Chrome and Firefox can "talk" to each other via WebRTC. WebRTC is a new set of technologies that brings clear crisp voice, sharp high-definition (HD) video and low-delay communication to the web browser.
The nice thing about the technology being built into the browser is it allows web apps to be more easily distributed. Neither user will have to install a plug-in, restart the browser, and hope that it works. This will allow Facebook to easily add video calling to its messaging functionality that doesn't require users to install a plug-in.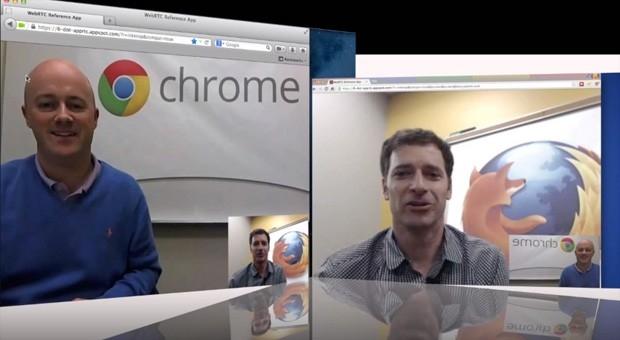 Related Tags