You might have read a story I did a few days ago on a class action lawsuit settlement in which Facebook admitted to using its users images in "Sponsored Posts". The settlement was agreed upon with $20 million being set aside to compensate affected parties.
This morning I received my settlement notice even though I had no idea that I was one of the affected parties. The notice does say that I could be entitled to up to $10, but if the number of claims exceeded a financially feasible number, then all the money will be donated to charity. Other than that, it is full of legalese, but it does state a few interesting things which I have quoted below.
This Notice relates to a proposed settlement ("Settlement") of a class action lawsuit ("Action") filed against Facebook relating to a particular Facebook feature called "Sponsored Stories." According to available records, you may be a "Class Member."
Facebook will pay $20 million into a fund that can be used, in part, to pay claims of Class Members (including Minor Class Members) who appeared in a Sponsored Story. Each participating Class Member who submits a valid and timely claim form may be eligible to receive up to $10. The amount, if any, paid to each claimant depends upon the number of claims made and other factors detailed in the Settlement. No one knows in advance how much each claimant will receive, or whether any money will be paid directly to claimants. If the number of claims made renders it economically infeasible to pay money to persons who make a timely and valid claim, payment will be made to the not-for-profit organizations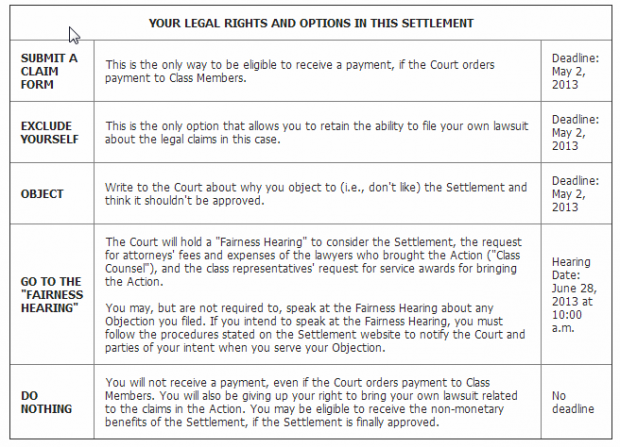 In addition to monetary relief, Facebook will (a) revise its terms of service (known as the "Statement of Rights and Responsibilities" or "SRR") to more fully explain the instances in which users agree to the display of their names and profile pictures in connection with Sponsored Stories; (b) create an easily accessible mechanism that enables users to view, on a going-forward basis, the subset of their interactions and other content on Facebook that have been displayed in Sponsored Stories (if any); (c) develop settings that will allow users to prevent particular items or categories of content or information related to them from being displayed in future Sponsored Stories