Apple, Google, and others agreed not to poach during mid-2000s
Apple, Intel, Google, and others had non-poaching agreements in place, now being sued by five worker.
Published Wed, Jan 23 2013 7:02 PM CST
|
Updated Tue, Nov 3 2020 12:25 PM CST
Some bad news, at least for the companies involved, has come out thanks to a court case brought against Apple and Google by five workers. The case alleges that they are due lost wages as the companies involved tried keeping wages down by agreeing to not poach employees from each other.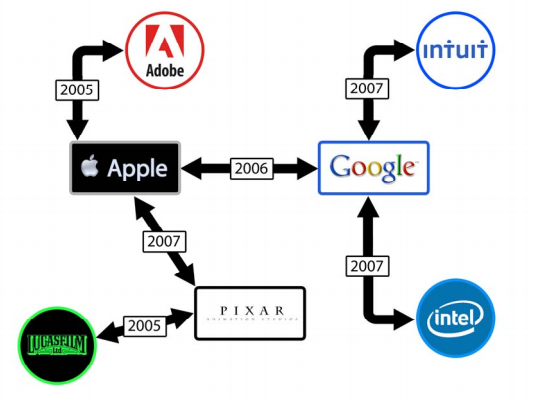 Apparently, this non-poaching agreement extends beyond Google and Apple to the likes of Intel, Adobe, Pixar, and others. Judge Koh, made famous by the on-going Apple vs Samsung battle, is overseeing this court battle. This could end up being very bad for the companies involved, with the plaintiffs arguing that the damages could reach hundreds of millions of dollars.
For instance, an e-mail sent to Eric Schmidt by Steve Jobs: "Eric, I am told that Googles new cell phone software group is relentlessly recruiting in our iPod group. If this is indeed true, can you put a stop to it? Thanks, Steve." Another e-mail, this one sent by Paul Otellini of Intel, reads, "we have nothing signed. We have a handshake 'no-recruit' between eric and myself. I would not like this broadly known."
Apple, Adobe, Google, Intel, Intuit, and Pixar all settled with the Justice Department in 2010 over these non-poaching agreements by agreeing to end them. This should be interesting to keep your eyes on over the next few weeks and months and we'll be sure to keep you updated on any breaking news.
Related Tags