CES 2013 - AMD's new Radeon HD 8000M is something special for mobile computing, as its the first mobile GPU that is based on the Graphics Core Next (GCN) architecture. These GPUs are built on the 28nm process and feature DirectX 11.1 support, as well as the cool AMD tech found in ZeroCore and Enduro.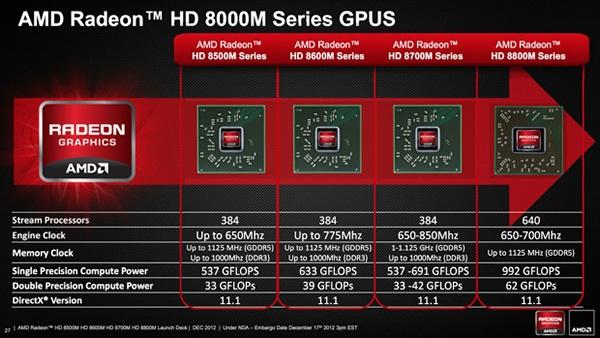 The Radeon HD 8000M lineup will include 8500M models (384 stream processors, 650/1125MHz), 8600M series models (384 stream processors, 725/1125MHz), 8700 series models (384 stream processors, 850/1125MHz) and a higher-end 8700M that will feature 640 stream processors, 700MHz core and only uses GDDR5.
AMD have pulled their rubber rebadging stamp out of the 'why aren't we over this yet' cupboard, and are currently stamping rebrands of the HD 7000 family into the HD 8000 family to OEMs from top to bottom. Even the Radeon HD 8970 is a damn rebadge of the Radeon HD 7970 GHz Edition which sports 2048 stream processors, 1GHz core clock and 3GB of GDDR5 clocked at 6GHz, all sprinkled on a 384-bit bus.
Sigh.
New APUs have also been launched, with two of them codenamed Temash and Kabini. AMD are pushing these as their first true system-on-chip APUs, sporting four x86 cores. Kabini is looking to take Intel on within the ultra-thin notebook sector, with up to 50% more compute performance than current-generation Brazos 2.0. Temash on the other hand will replace Hondo on AMD's tablet front and hybrid APU with twice the graphics performance.
Moving onto Richland, which is aimed at the traditional notebooks and desktops which is claiming up to 20% to 40% performance boosts over current A-Series products. AMD has said that Richland is currently shipping to OEMs and have announced that systems built on this chip will sport gesture- and facial-recognition software which will "expand and enhance consumers' user experiences".
The follow up to Richland will arrive in the second half of this year, sporting the 28nm Kaveri APU which will provide an even bigger performance boost, also adding heterogeneous systems architecture (HSA) improvements.