Cooling becomes a major issue as our beloved electronic gadgets shrink in size. We want things smaller, thinner and lighter and that causes a few problems for engineers. General Electric has just unveiled a new breakthrough technology that has the potential to push the miniaturization process forward by orders of magnitude.
Dubbed Dual Piezoelectric Cooling Jets, or DCJ,the system works by activating each piezoelectric element in an alternating pattern. This creates a "bellows" of high velocity jets of air that are many times more efficient than traditional fan cooling technology. An added benefit is that the DCJ system is much thinner than existing fan technology and is virtually silent.
"DCJ was developed as an innovative way to dramatically reduce the amount of pressure losses and loading characteristics in aircraft engines and power generation in gas and wind turbines," explained Peter de Bock, lead research in the electronics cooling arm of GE's Global Research division.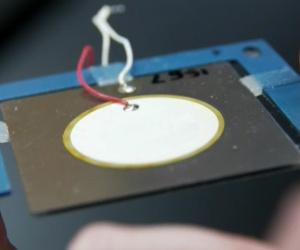 With current DCJ coolers measuring in at a scant 4mm, they are more than half that of the thinnest cooling fans. They draw half the power, are orders of magnitude more reliable and less complex than existing fan technology.
"With new tablet and netbook roadmaps moving to platforms measuring less than 6mm high, it is clear that consumers are demanding thinner and more powerful electronic devices," claimed Chris Giovanniello, of GE. "GE's patented DCJ technology not only frees up precious space for system designers, but it consumes significantly less power, allowing as much as 30 minutes of extra battery life. Best of all, DCJ can be made so quiet that users won't even know it's running. Thermal management is becoming a big problem for many companies trying to miniaturise their electronics, and as a result we are getting strong demand to evaluate the DCJ technology in many markets, from consumer electronics, to automotive, to telecom and industrial sectors."
We can not wait to see this technology hit the shelves of some of our favorite aftermarket cooling manufacturers.