AMD joins forces with BlueStacks, produces AMD AppZone Player
AMD works with BlueStacks to produce AppZone Player, which allows 500,000 Android apps on Windows.
Published Thu, Sep 27 2012 11:18 AM CDT
|
Updated Tue, Nov 3 2020 12:27 PM CST
Computer, Android. Android, Computer. Now that you two have met, maybe we can move on to bigger and better things, such as allowing Android's games to play on the computer. Well, that's exactly what AMD has done with the help of BlueStacks. The two have worked together to produce AMD AppZone Player, which will enable hundreds of thousands of Android apps to be used on AMD PCs.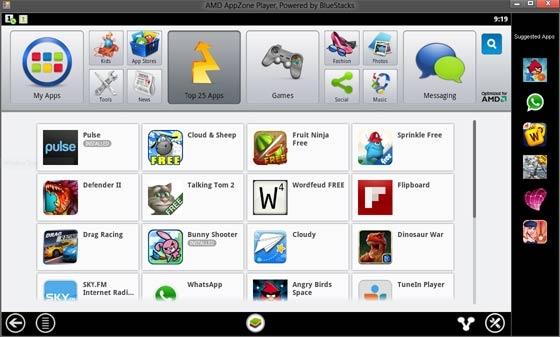 The new app is a really cool program that uses BlueStack's "award-winning LayerCake Technology" to bridge Android and x86 application ecosystems. I'm pretty confident that the AppZone Player features an Android emulator, though I can't be 100 percent confident. If you want to check it out, the apps, and player, are available on AMD's AppZone website.
Rosen Sharma, CEO of BlueStacks said "As the engine behind the AMD AppZone Player, we are providing a potent combination of award-winning software optimized for AMD's industry-leading hardware. Consumers can now enjoy their favourite mobile apps on the larger, more immersive screen of their PC"
Mr Sharma added, "This helps AMD leapfrog Intel by making Windows 8 more attractive on their tablets and PCs. We've worked closely together to optimize the performance of the apps for AMD's unique 'graphics and computing on one chip' setup. The result is awesome - mobile apps run beautifully on their machines."
This is likely the most important aspect of the project. By bringing all of the Google Play Store to Windows-based tablets, users can have the best of both worlds. They are able to run Windows 8 and use all their normal programs, as well as gain access to the wide market of Apps previously only available to Android. This should help make AMD-powered tablets more attractive to consumers.
Related Tags