ASRock's Z77 OC Formula has been used with an Intel Core i7 3770K and the help of legendary overclocker Nick Shih, which has reached an insane 7.136GHz. This has given ASRock the number one spot on HWBOT, as well as setting a new overclocking world record. The man himself had the following to say about the achievement: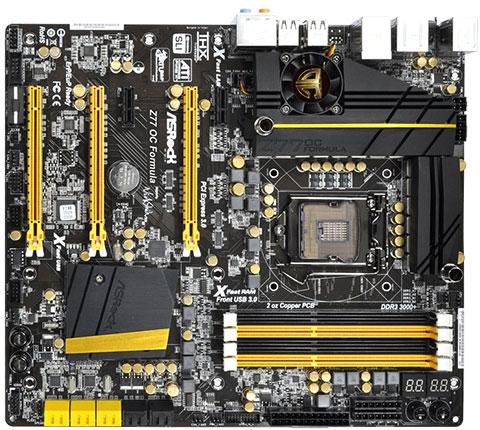 Hitting number one on HWBOT makes my day, but scoring number one with the motherboard I designed is like the wildest dream come true! Thanks to everyone who helped make my dream, ASRock Z77 OC Formula, into reality!
ASRock's Z77 OC Formula is ASRock's first motherboard designed for overclocking, featuring three Formula kits. These three kits are the Power Kit, which delivers "smooth and stable current with Digi Power, DSM, PAC, MFC and the 12+4 power phase design". Next up we have the Cooling Kit, which provides some great cooling, sporting the Twin-Power Cooling Heatsink, 8-layer PCB design with 4 sets of 2oz copper inner layers and GELID Solution GC-Extreme Thermal Compound. Finally, we have the Connector Kit, which includes Hi-Density Power Connectors and 15μ Gold Fingers.
The ASRock Z77 OC Formula is a seriously slick piece of kit, and congrats to Nick on the insane achievement!