Are you the owner of a 7 series Gigabyte motherboard? Tired of all those hackers plugging flash drives into your computer and giving you viruses? If so, Gigabyte has the download for you! Today, Gigabyte has announced a new piece of software which will disable certain types of USB devices from connecting to the computer.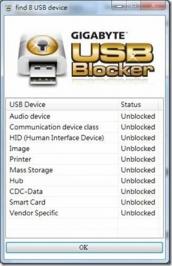 The software features an easy-to-use GUI that allows you to select what can and cannot be seen by the operating system when physically connected. The software will currently run on Intel Z77, H77, B75 and H61 based motherboards produced by Gigabyte. Gigabyte has provided some excellent use-case scenarios:
For example, in a small office were data theft could be a worry, you can block each PCs access to storage devices, making it much harder for anyone to walk out the door with your data. In schools, joysticks and game pads can be blocked, while public PCs in hotels, cafe's, dormitories, libraries and such, can avoid the risk of viruses and malware by blocking pen drives and other storage media, while still allowing USB connected keyboard and mice to be used.
The software is available immediately for download from Gigabyte's website. Try it out and let us know what you think of it in the comments. But, it's free, so you have to limit your complaining if don't like it!