Facebook is trying out a new feature that allows users to send a postcard with one of your pictures on it to a friend. The new feature is powered by Sincerely and allows you to mail a physical postcard to a friend. You can even add a message that will be sent to the friend with the card or send prints of their pictures.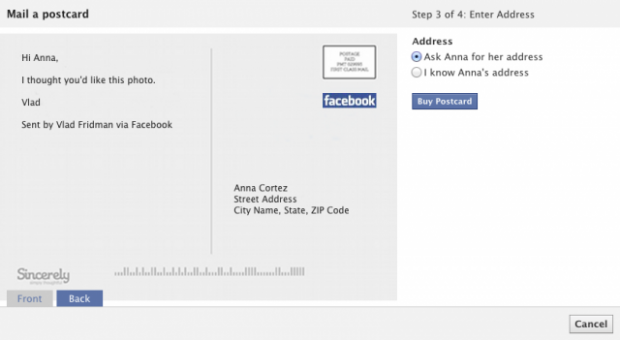 Of course, Facebook isn't doing this for free. The sender is charged a fee, right now at varying price points for the people who have access to the trial, and the card goes out in the mail through Sincerely's service. Sincerely is the company behind Postagram, the service that does basically the same thing for Instagram pictures.
This feature came about from a Hackathon project. If successful, and instituted, the new service could garner Facebook some more earnings through increased interaction with pictures (higher advertising value) and through a possible small profit from the selling of the postcards and prints.
If you're in the limited group trial, under the photo you are viewing you will see a "Mail Postcard" button. Clicking this opens a screen, seen above, that you can enter your message and the recipient's address on. Click send and off the order goes to production and mailing. Simple, and likely effective.