We know that the US government, and many others, use drones for 'security' purposes, but mostly for spying and intel gathering activities. But, even at the size they are now, they can't really be seen all that well to the unsuspecting eye.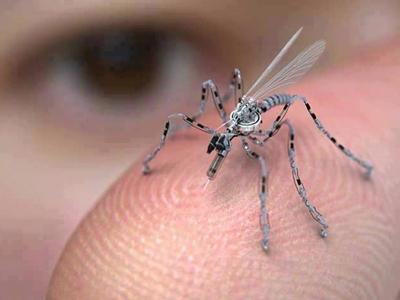 What if they could get small enough to fly right next to you without you even noticing? Surely, I jest. But, it's no lie, or trick. Vanessa Alarcon was a college student when she attended a 2007 anti-war protest in Washington, D.C. and heard someone shout "Oh my God, look at those". Alarcon told The Washington Post:
I look up and I'm like, 'What the hell is that?' They looked like dragonflies or little helicopters. But I mean, those are not insects.
There was a lawyer at the protest at the time who confirmed they did look like dragonflies, but that they "definitely weren't insects". Back in 2006, Flight International reported that the CIA had been developing micro UAV's all the way back in the 1970's, and even had a mock-up in their Langley headquarters since 2003.
Private trader and former software engineer Alan Lovejoy had found a picture (above) of a CGI mock up of a mosquito equipped with the 'ability' to take DNA samples or even inject objects under your skin. You know, to maybe track you, or infect you with a disease. Lovejoy says:
Such a device could be controlled from a great distance and is equipped with a camera, microphone. It could land on you and then use its needle to take a DNA sample with the pain of a mosquito bite. Or it could inject a micro RFID tracking device under your skin.

It could land on you and stay, so that you take it with you into your home. Or it could fly into a building through a window. There are well-funded research projects working on such devices with such capabilities.