World Exclusive: SandForce SSD benchmarks with IMFT 20nm ONFi2 Flash
And now you get an exclusive look at IMFT 20nm flash performance.
Published Jun 8, 2012 7:59 AM CDT
|
Updated Tue, Nov 3 2020 12:28 PM CST
2 minutes & 14 seconds read time
Computex 2012 - Just moments ago we brought you the world exclusive first numbers of a SandForce SF-2281 controller paired with Toshiba's upcoming 19nm Toggle Mode flash. The system we tested on was provided by LSI and was NOT our normal test system optimized for solid state drive performance. We now have a little something to compare the 19nm test with and it is yet another world exclusive!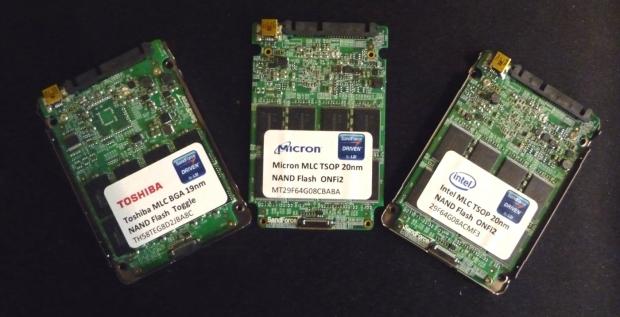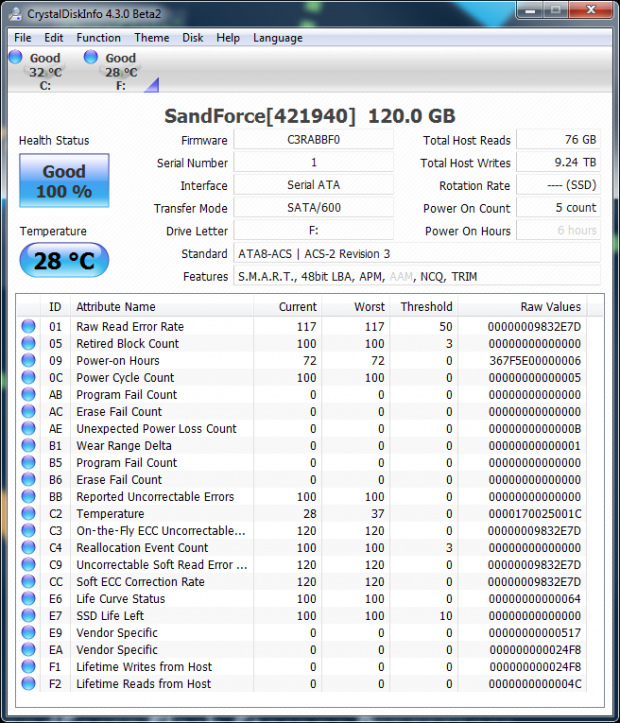 SandForce had three drives at their suite of interest to us. The first being the 256GB 19nm Toshiba Toggle Mode product and the other two are 128GB IMFT drives. One drive equipped with 20nm Intel ONFi2 flash and the other with Micron 20nm ONFi2 flash. We've learning that IMFT is a little behind Toshiba in the development of their next generation flash and right now the focus is on ramping up endurance. The performance improvements will come after the endurance is increased.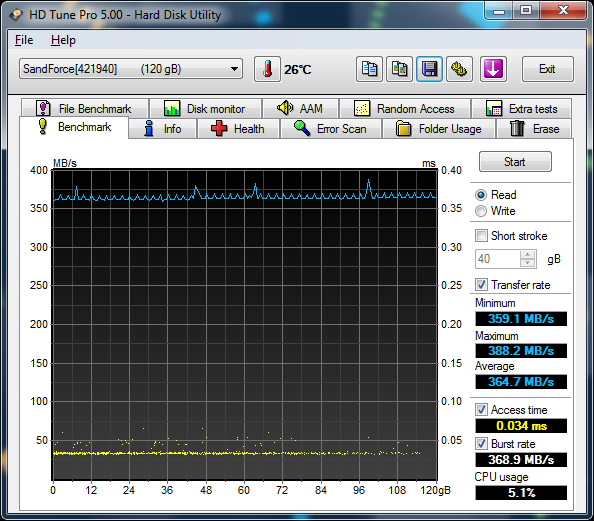 We're just going to run over the numbers with brief commentary. At the end we'll talk about what we're seeing.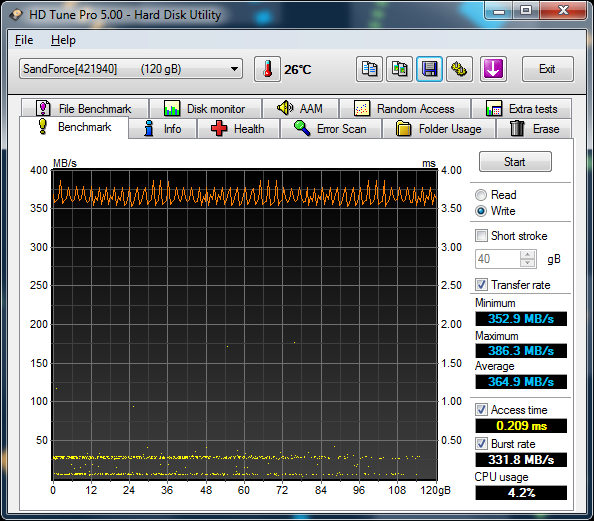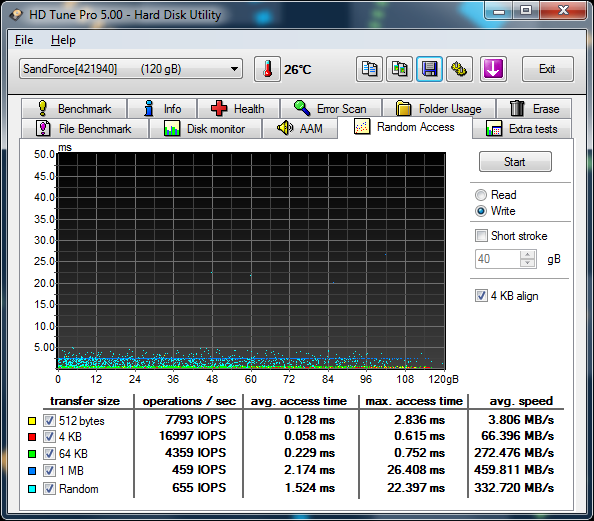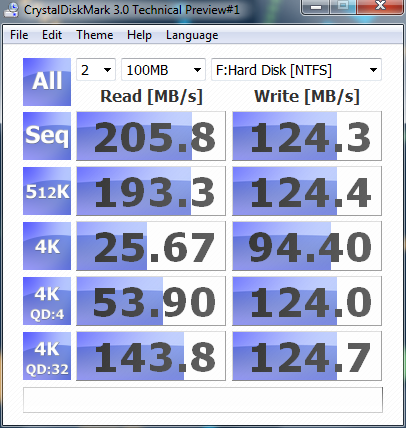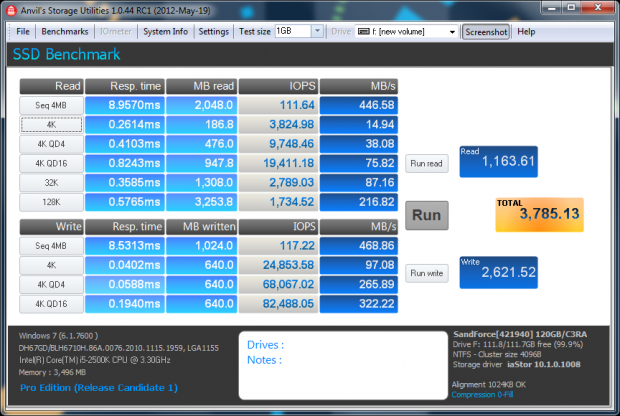 Anvil Compressible Test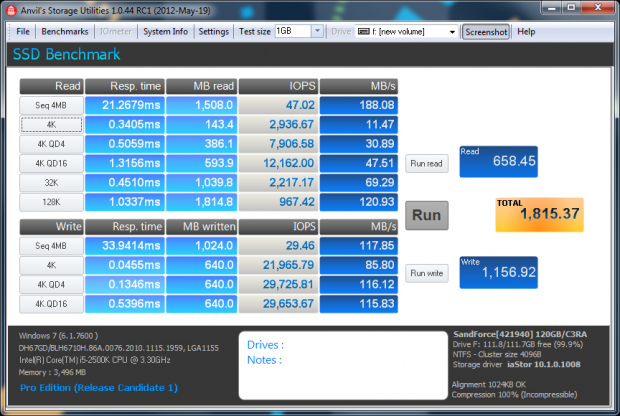 Anvil Incompressible Test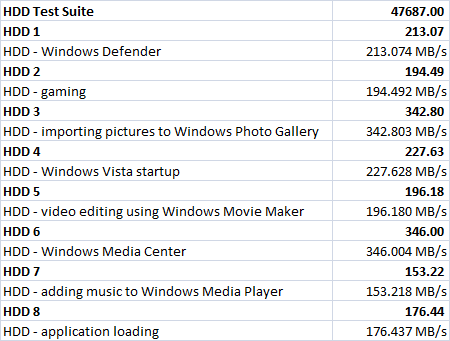 Both the Toshiba 19nm Toggle Mode and IMFT 20nm ONFi2 parts were tested on the same system. This system was provided by LSI and is NOT our standard test rig we use back in the states. The test system was based on the P67 chipset so the OROM was older than what we use now, the C-States were enabled so performance was much slower than our baseline numbers back at the office.
The only thing that either of these tests can be compared to is each other as hardly anyone runs their performance computer with C-States enabled, it reduces IO bandwidth too much.
So, what we are seeing at this time, which is actually very early in the next generation flash game is that Toshiba has a very large performance lead over Intel / Micron (IMFT). This tells us much more than what we even went fishing for this trip.
Just a few days ago we wondered why Micron sent a small marketing team to Taipei but still issued a full on media blackout on Crucial's upcoming SSD. Could the lack of performance from 20nm have something to do with that? We still don't have enough information to answer that and chances are until the blackout is over we won't know either.
Getting back on track, LSI SandForce has shown their SF-2281 is ready for next generation flash today. This is an area where SandForce has done a very good job at the design level and we expect to see SandForce based drives with next generation flash before anyone else.
As for the IMFT 20nm flash being outperformed by a large margin in this snapshot, well all we can say is we're looking at a product still in development. It also needs to be pointed out that the Toshiba 19nm Toggle test was performed on a 256GB drive and the only IMFT 20nm drives on hand were 128GB. As you well know the 256GB models perform better than 128GB models but I think the divide in performance will be greater as the die sizes shrink.
So what's next? We aren't ready to hang the hat just yet. We have another world exclusive coming in a few minutes.
Related Tags