RumorTT: AMD FX 8150 appears to have hit 8805.6MHz in new overclock
Rumor: Ksin manages 8805.6MHz on an AMD FX 8150 CPU and ASUS Crosshair V Formula motherboard.
Published Mon, May 28 2012 11:34 AM CDT
|
Updated Tue, Nov 3 2020 12:28 PM CST
The AMD FX series of processors is known for overclocking pretty well. It currently holds the world record for fastest clock speed ever achieved and looks to be breaking that once again. A new CPU-z validation screen shot has shown up online. It details the feat even though HWBot rejected the the posting.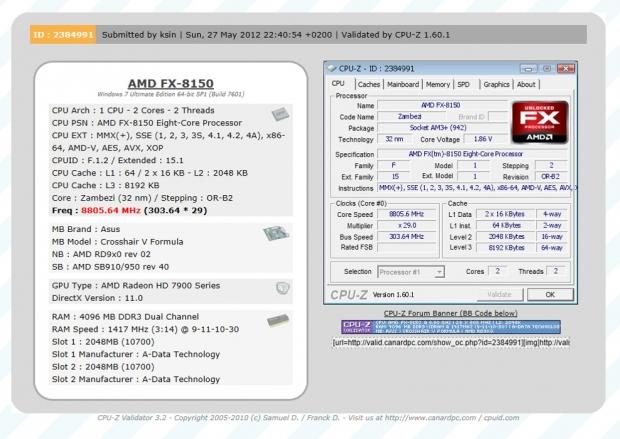 The rejection was most likely due to the fact that the overclocker didn't provide much in the way of detail about the cooling system used. When I say much, I mean any. What we do know is that the chip was clocked at a massive 8805.6MHz and was achieved by overclocker Ksin. Speed like that comes only when an overclocker uses extreme cooling such as liquid nitrogen or liquid helium.
To achieve the feat, Ksin used a base clock of 303.29 MHz and a multiplier of 29.0. To reach these clock speeds, an incredible 1.86 volts were pumped through the core. As such, it is recommended that you don't try this at home as that will kill your chip very quickly. Other components of the system include an ASUS Crosshair V Formula motherboard and 4 GB (2x 2 GB) of ADATA memory. The memory was clocked at 1417 MHz.
It appears that the posting has now been removed at the time of writing. I imagine this is due to the lack of cooling information.
UPDATE: The reason that the score was pulled from HWBot is because the Pi score indicated that the frequency could be bugged. This doesn't mean that it is, but that the possibility exists. We will keep you up-to-date with the very latest overclocking news.
Related Tags