I'm really hoping that struggling RIM (Research in Motion) and their next-generation OS, BlackBerry 10 (BB10) bodes well against the likes of Apple and Google. Just hours ago, there was a media briefing for RIM's next OS in London.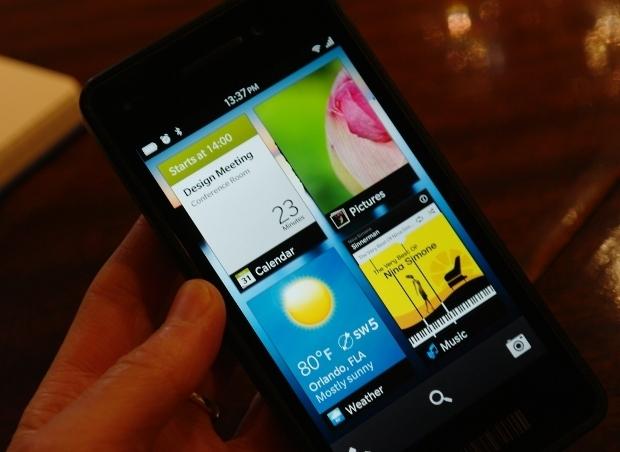 BB10's home screen has been hidden, until now. The media event showed off the swish looking home screen, which is now populated with widgets, but the change is that all of the on-screen widgets are actually active applications that will dynamically change based on your activities.
Most of BlackBerry 10's interface is gesture-driven, where you can quick swipe to the right to bring up the full launcher, where a swipe to the left will open the unified inbox. Definitely not revolutionary, or even resolutionary, but it's better than previous iterations of RIM's operating system. RIM have also updated the BB10 software keyboard, where RIM's Head of Software Portfolio, Vivek Bhardwaj has stated that the company spend a lot of time and effort trying to replicate the capabilities of the company's iconic plastic keyboards.
The result of this time and effort is a software keyboard that has a distinctive BlackBerry look and feel, with the same key spacing, and more. The way it changes, is that it will take notes of where you place your fingers when you're typing, and then adjusts its register to minimize typos. If you weer to say strike the top left hand corner of the T key when typing that letter, it will learn your positioning and register it as a perfect keystroke in the future, so that typos are less likely.
BB10's camera will also get a few nifty upgrades, with features similar to those found in HTC's new One series, and Samsung's GALAXY S III. The first feature is "burst mode", which will capture a sequence of photos. Once burst mode is enabled, the camera will begin taking a sequence of photos but the user is encouraged to use the camera like normal. Individual faces in the image can be edited afterwards to select the best shot.
You can read more on BlackBerry 10, here.