Intel Core i7 3770K overclocked to a whopping 6.616 GHz
Chinese overclocker takes an Ivy Bridge 3770K to 6.616Ghz on liquid nitrogen.
Published
0 minutes & 58 seconds read time
While the upcoming Ivy Bridge chips (think 3770K, etc) may suck on air, with a little bit of love and some extreme cooling solutions, it looks like these chips could prove to be pretty darn good overclockers. Chinese overclocker x-powerx800pro has managed, with the help of liquid nitrogen (LN2), to achieve a massive overclock of 6.616Ghz!!!! DAMN!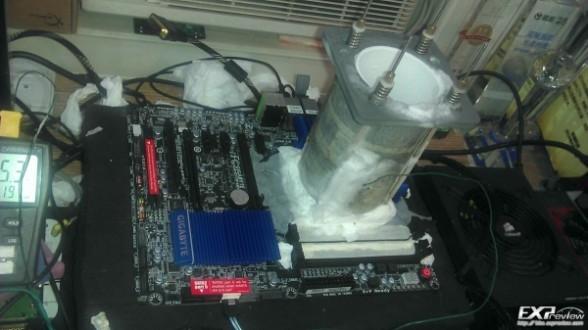 That blows the socks off of my previous record of 5.5Ghz on my old 655K (note: I used a chilled water setup). Using a 63x multiplier and a base clock of 105.03MHz, he was able to achieve the massive overclock of 6.616GHz. Thank you 22nm goodness. However, pay no attention to the reported 'Core Voltage' in the following CPU screenshot.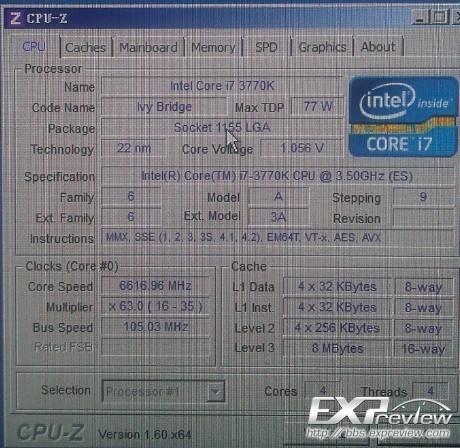 The core voltage reported is actually a bug. The real core voltage is much higher and comes in at a large, but not ridiculous, 1.85v. This chip is also showing up as an 'ES' which means engineering sample. This means that the retail version could clock much differently. And contrary to the rumor posted previously today, the screenshot does say 77W for the TDP.
It could disprove the rumor, or the TDP could be reported wrong due to it being an engineering sample or CPU-z may not have been updated to include updated numbers from Intel yet. I wouldn't count the rumor out just yet, but I would start scrounging for more exotic cooling solutions if you plan to overclock.
Related Tags