OnLive Desktop, that popular app that gives you a hosted Windows 7 environment and full Office 2010 support, will no longer be giving you a Windows 7 environment. Instead, you will now be receiving a Windows Server 2008 environment. The App that was first shown to the world back at CES 2012 in Las Vegas immediately sparked a debate about licensing terms.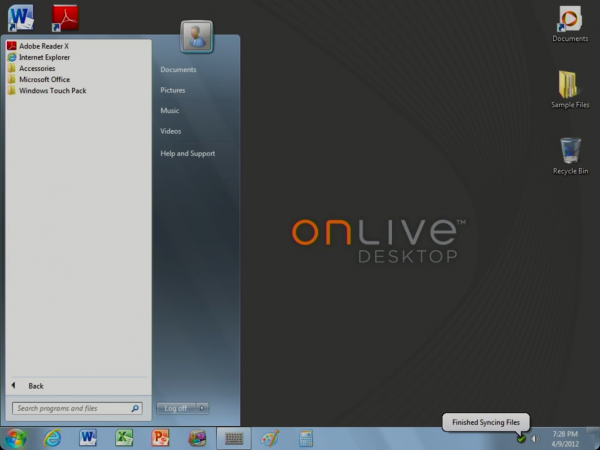 Microsoft had remained silent about whether or not the app was breaking their license terms. In March, however, the software giant spoke out saying that they didn't believe that the app was operating inside licensing terms. They said that they were in talks with OnLive to reach an acceptable license agreement.
"We're pleased to have been told that the OnLive Desktop application is now accessing our software by hosting it on Windows Server, an important step in delivering any Microsoft-licensed desktop-like service to the public. Based on this information, we will work with OnLive to take a closer look at its service and ensure it is operating according to its license like thousands of other partners and utilizing our standing pricing and licensing terms," Microsoft said in a statement to The Register.
A co-founder of tuCloud, a VDI consultancy says, "We think they may have skinned Windows 7 to make it look like Server 2008R2. We're seeing traces of Windows 7 in there, but can't prove it. [...] If they have downgraded to R2, then at least they are playing on the same playing field as the rest of us."
I highly doubt that they would take that risk considering the legal might that Microsoft has. Plus the additional risk of a possible legal judgement for breaking the license terms, and this becomes one massive risk for them to take, if tuCloud's accusation is correct. If you haven't, let me suggest you check out OnLive Desktop on iOS.