Harmonix to release Rock Band Blitz this Summer
Harmonix, the creators of Rock Band, are working on a new title dubbed 'Rock Band Blitz'
Published
0 minutes & 50 seconds read time
A new game from the studio that brought you Rock Band and Dance Central has been confirmed to be in the works. Harmonix is set to release another Rock Band brand game called "Rock Band Blitz" which will be released "this summer." We have no specific confirmation of the actual release date other than that.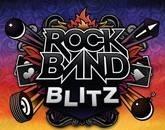 This game is different from the other Rock Band games in that it doesn't require any peripherals. Instead, it goes back to some of the earlier games which rely on frequency and amplitude, where players press buttons in time with the songs which span multiple lanes. The game will feature a new soundtrack of 25 songs.
Existing customers can import DLC from previous versions to the game and use the Blitz songs in any other Rock Band game. It's nice to see that Harmonix is working on compatibility between its games rather than leaving the customer out to dry. It would be nice to see Call of Duty do something similar with its maps and map packs.
The game will show up on Xbox 360 and PS3 as a downloadable title via PSN and XBLA. Once again, the release date is yet to be determined. In the interim, enjoy the official trailer below:
Related Tags