Sapphire's Vapor-X coolers are somewhat of a huge deal in the GPU community, reviewers and users love them, because of their great performance, and noise levels. It seems Sapphire want to see CPU coolers sporting the Vapor-X technology, and have now shown off a new cooler at CeBIT, which should hit mass production in the near future.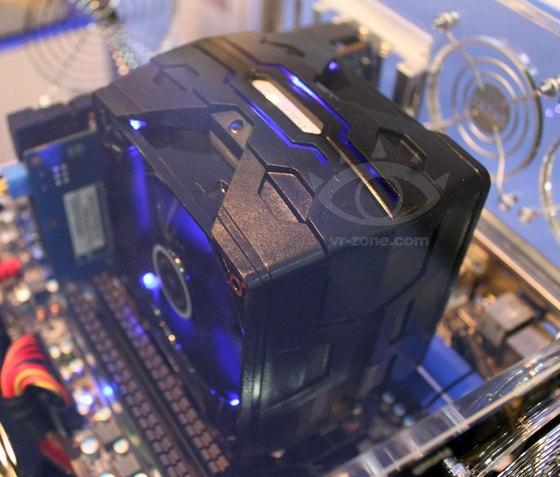 The Vapor-X cooler, at first glance, does not look different from many other big CPU coolers we see from Cooler Master or Thermaltake. It features four heatpipes running from the base of the cooler to the fins on the heatsinks, as well as sporting two 120mm fans and various bits of plastic shrouding to make the cooler look, well, cool.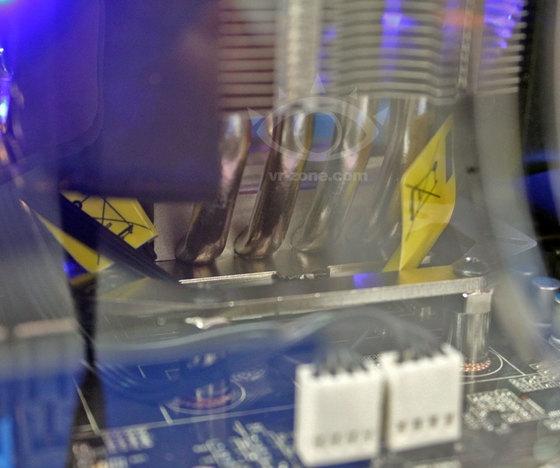 So far, this is no different to most other coolers, except the vapor chamber. Rather than use a standard metal plat for the base of the cooler itself, Sapphire have chosen to use a vapor chamber, to which the heatpipes are attached. Again, this itself isn't unique, as Asetek have been here before a few years ago, but in their case, the vapor chamber was directly connected to the heatpipes, and thus, too sensitive to how to the cooler was installed.
Sapphire on the other hand, has managed to do better, by opting to use a sealed vapor chamber to create a cooler that is less sensitive to which direction it's installed, while still being capable of drawing the heat away quickly from the vapor chamber with the help of its heatpipes as a secondary cooling setup. We should have one of these bad boys as soon as possible to throw on our test bed.