Sony's official US launch for the PlayStation Vita sported LiveTweeting, Wi-Fi-only Netflix access, and Flickr's photo-based networking but missed out on Facebook and Foursquare apps. Well, today that is changed, my friends.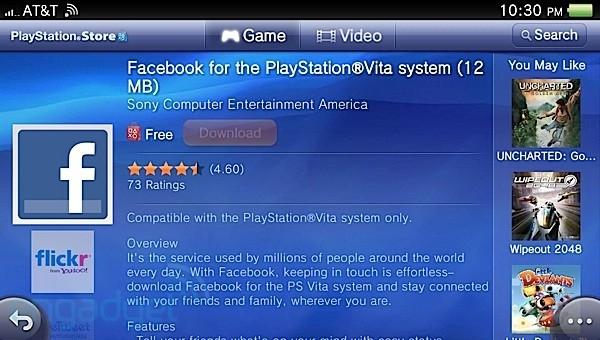 Sony have announced that Facebook is now available for the PS Vita in the form of a 12MB free download from the PlayStation Store. If you've got a PS Vita, first off, how do you find it? Secondly, you should be grabbing the Facebook app and posting your thoughts as a comment on our Facebook page, that would be, in the words of Beavis and Butthead, "cool".
I walked past my local JB Hi-Fi store yesterday (electronics retailer for you non-Australians) and was a bit too busy with my 11-month-old 'dada-ing' and pointing to everything to stop in and see the Australian launch stuff for it. I'm tempted, and I have a few friends who have said good things about it. But, it still needs a kick-arse killer-app in my opinion, for me to justify purchasing something I would only use every now and again.