Intel's Haswell sports DirectX 11.1 graphics
Intel Haswell will sport DirectX 11.1, will support Auto-Stereoscopic 3D (AS3D) and more.

Published Tue, Feb 14 2012 4:16 AM CST
|
Updated Tue, Nov 3 2020 12:29 PM CST
Intel's new processor architecture codenamed "Haswell" won't see the light of day until 2013, but that doesn't stop information from leaking out onto the Internet about it. The successor to Ivy Bridge now has some more details on its embedded graphics processor, with DonanimHaber detailing the integrated GPU (iGPU) plans.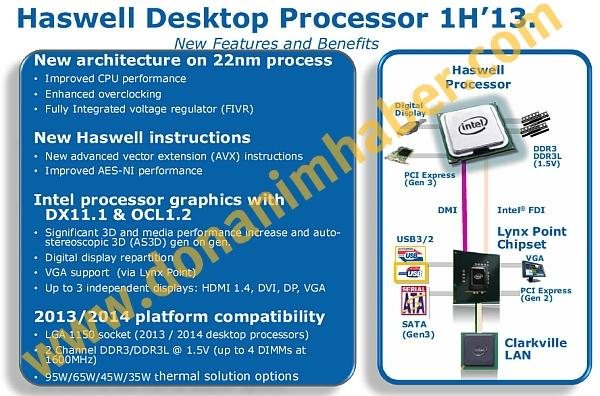 Haswell's iGPU will be DirectX 11.1 compliant, which means it will take advantage of API optimizations that improve performance, for "typical desktop usage scenarios". It also supports OpenCL 1.2, which will help in GPGPU-optimized applications, and is designed around a new stereoscopic 3D standard called Auto-Stereoscopic 3D (AS3D), which will benefit Blu-ray 3D acceleration, stereo 3D photos, and more.
It would be compared to entry-level GeForce or Radeon GPUs for acceptable performance with stereo 3D.
Something else to look forward to is a little thing Intel refer to as "digital display repartition". At the moment, current Intel processors with embedded graphics have relied on the PCH to perform all display I/O functions, the iCPU communicates to the PCH over the Flexible Display Interface (FDI), a special data link dedicated to this exact function.
Haswell, however, with digital display outputs such as the normal DVI, HDMI and DisplayPort will be wired directly to the CPU socket, while analog tech like D-Sub will be handled by a RAMDAC located in the PCH, to which a digital signal is sent over FDI. This way, it ensures that there is no performance bottleneck with higher resolution digital displays, but also ensures that analog display quality isn't affected by the RAMDAC being located in the GPU die, where it would normally have interference by some high-current circuits.
Related Tags