New peripherals and various tidbits soon to be released from Thermaltake
Lots of cool odds and ends coming out soon!
Published
1 minute & 50 seconds read time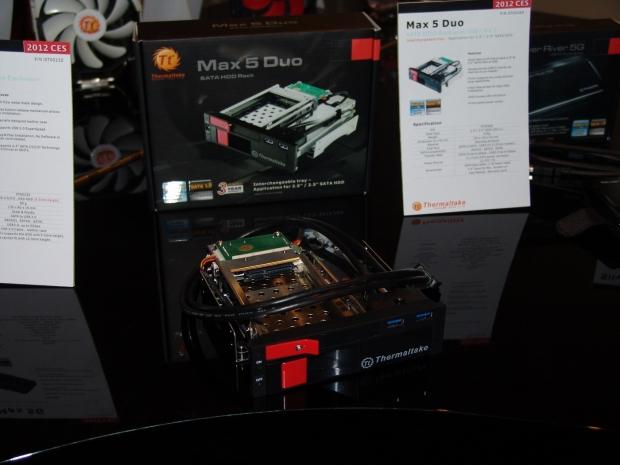 CES 2012 - First on the list of cool offerings from Thermaltake in the add-on market is the Max 5 Duo. This hady 5.25" bay device offers quite a bit in one small package. This bay device not only offers a 2.5" and 3.5" hot swap hard drive bays that are powered with a single power lead, and of course each drive gets its own SATA connection in the back. Another added feature to this unit is the dual USB 3.0 ports to allow those with chassis to put two more high speed ports on the board as long as you have multiple native USB 3.0 20-pin connections.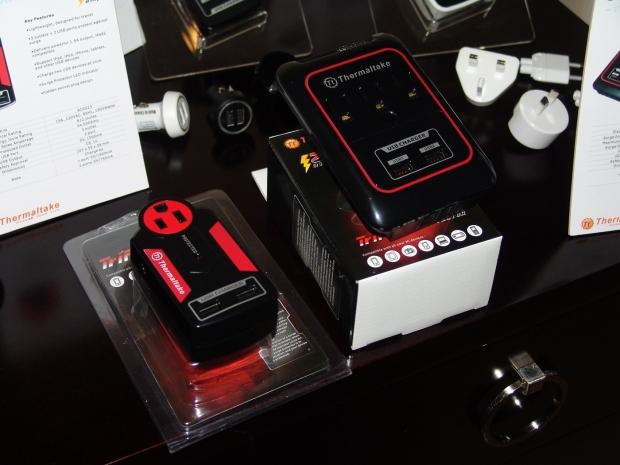 Thermaltake has also moved into the USB charging market. What I found here is that they are now going to offer a multitude of USB charging solutions, some with additional power outlets as well as the USB charging ports. Every device you buy these days comes with a wall charger of some sort, but here strides are taken to make then not only more universal to just detach the factory plug ends and use these devices, but there are going to be regional offerings with the appropriate power plugs, but Thermaltake took it even one step further with dual port, car lighter, USB charging devices.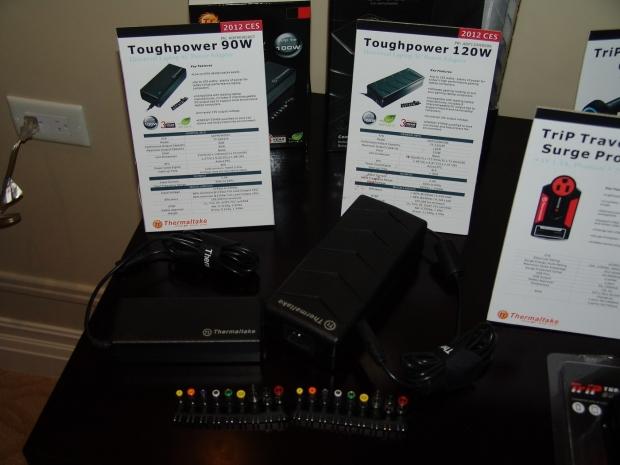 Under the Toughpower moniker, that we are used to from Thermaltake's power supplies, they are now going to be delivering a 90W and a 120W universal laptop power supplies. These units are used just as you would use a factory equipped version, but with the universal tips supplied with these units, the possibilities of what can be powered or what devices batteries can be charged with it, the list is pretty much endless.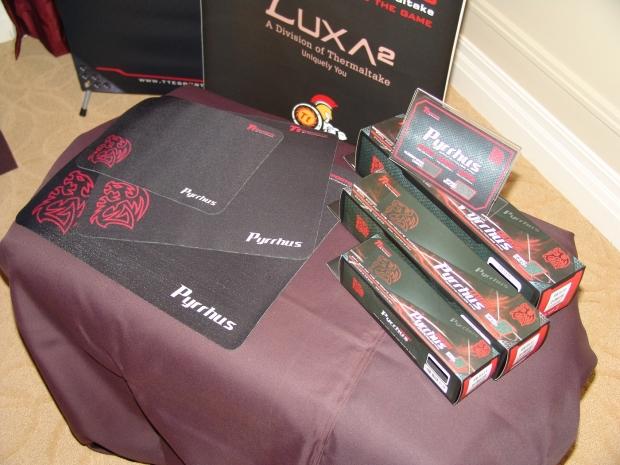 Thermaltake and the e-sports name are now going to be offering three variations of the same design in mouse pads. All three are foam based and covered in cloth like we are all used to, but with the Pyrrhus you now have the option to get one of the three to fit your specific needs. I for one will be trying to obtain the largest of this group for a review as soon as Thermaltake gets these to retail channels.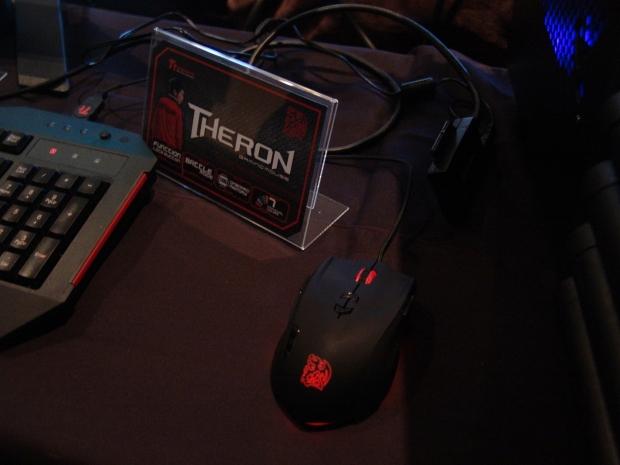 The last in this long line of peripherals is the new Theron gaming mouse. This mouse has some really neat features like a lockout button to make the mouse unusable if you are away, onboard memory to save your individual preferred settings, and six LED color choices. What makes this mouse stand out in the LED lighting is that each of the five lights can be individually controlled. So while the sides are red, the logo can be blue, or any combination of the six color options on the LEDs simultaneously.
Related Tags