Pre-CES 2012 preview of Thermaltake coolers including Frio Extreme
Frio gone on steroids and some water cooling units on display.
Published
1 minute & 12 seconds read time
Last month we visited the Thermaltake HQ in Taipei where we stumbled upon a few products where we got the chance to film them on video in this pre-CES 2012 preview of some new cooling products from the Taiwanese company.
Starting off in the air department we have the Frio Extreme which is similar in design to past Frio series air coolers from Thermaltake, but the Extreme version which will come out sometime in Q1 2012 takes things to a whole new level being able to provide up to 250 watts of CPU cooling ability.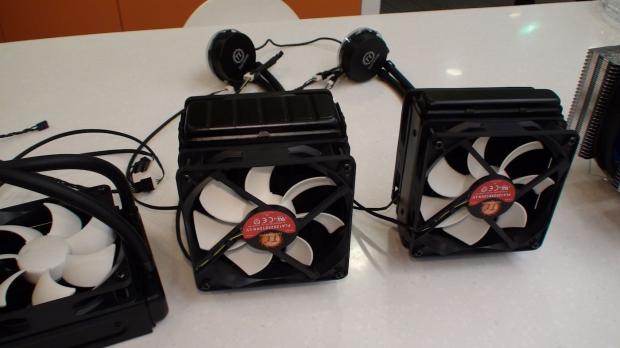 Included on the cooler are two 120mm cooling fans and two aluminum heat blocks with six heatpipes. This cooler also comes with a new fan controller attached to it which allows you to adjust the fan speed in a small little black unit.
Next up we have a range of water cooling products from Thermaltake which will also be displayed at CES and go on sale by the end of Q1 2012. It is the Water 2.0 series including the Water 2.0 Performer, Water 2.0 Pro and the Water 2.0 Extreme. Some of these coolers are based on similar designs that are already out on the market since now Thermaltake and other companies use the same design as provided the same supplier.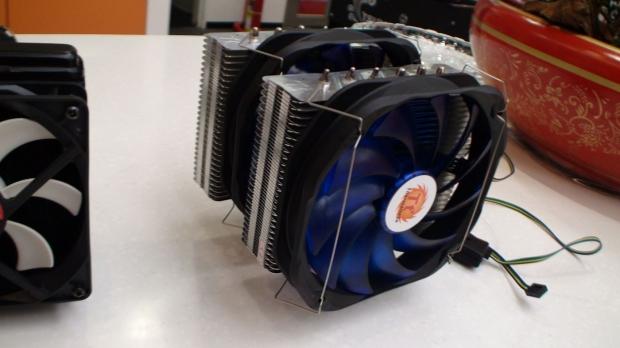 Thermaltake does however put some of their own touches on the products including the use of their own fans and on the Water 2.0 Extreme the dual 120mm fans are hooked up via a single three pin power connector versus a molex connector on some other designs. It's good to see this design as molex is really going the way of the dinosaur and some people (like me) enjoy the fact that they don't require aging molex connectors in their system build anymore.
Related Tags