Samsung's Galaxy Nexus to slide into Verizon stores on Friday, just $199 on contract
Galaxy Nexus to hit Verizon this Friday.

Published Wed, Dec 7 2011 8:21 PM CST
|
Updated Tue, Nov 3 2020 12:30 PM CST
Samsung's Android 4.0 Ice Cream Sandwich phone may be available internationally, but U.S.-based fans are still waiting on the subsidized CDMA version to be sold by none other than Verizon and made available this Friday.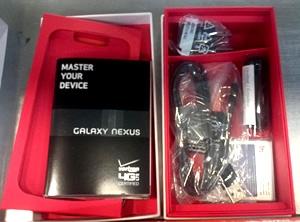 The Galaxy Nexus will be available for $199 on a two-year contract, which is something that has now been confirmed. The smartphone will also be the first Ice Cream Sandwich phone to officially arrive in the U.S. market. If you don't already know, the Galaxy Nexus sports the beautiful AMOLED display which comes in at 4.65-inches with a high-density resolution of 1280x720.
[edit] I have received some e-mails and comments on this article, after some more digging around - there are conflicting reports of a $199 figure, which could've been a Black Friday sale amount, and there is a $299 figure floating around too. It could all be a marketing stunt too, as the Galaxy Nexus is most likely going to be the biggest competitor against the iPhone 4S. I guess we'll see in just over a days time.
Tech-wise, we have a 1.2GHz dual-core OMAP 4460 processor, 1GB of RAM, a choice between 16 or 32GB internal storage, 5-megapixel rear-facing camera with a back-lit CMOS sensor and 1.3-megapixel front-facing camera that can be used for those awesome self-taken shots for MySpace, ah, who am I kidding, Facebook, or alternatively, video calls.
Now onto the interesting stuff, each Verizon store will receive a minimum shipment of 15 units, which will be replaced as they run out. Store will also not be receiving the phones through their "normal" receiving process, which is most likely aimed at avoiding leaks to those similar in the past.
Related Tags