The next, Next Gen of WarpDrive Pictured, WarpCache?
The next, Next Gen of WarpDrive Pictured, WarpCache?
Published Thu, Nov 17 2011 4:22 PM CST
|
Updated Tue, Nov 3 2020 12:30 PM CST
The WarpDrive has been a really good product for LSI and datacenter owners. The product has been so successful the successor has already been announced and production is ramping up quickly for a Q4 or early Q1 launch. That information has been public for the last month or so, released at IDF.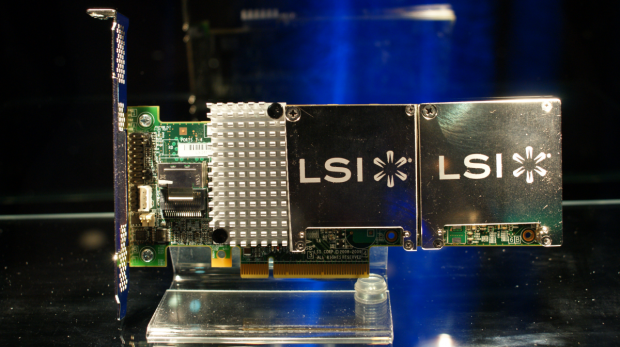 LSI is already working on an even newer product, one that they don't really want to talk too much about. So without an official name I'm going to designate this one WarpCache.
The LSI MegaRAID controllers have two distinct add-ons. We've covered them both in the past, FastPath, an IOPS accelerator and CacheCade, an HDD cache system fed by solid state drives. By placing an SSD or an array of SSDs in front of the HDDs to hold hot data the data can be read at the pace of SSDs. This also reduces wear on the traditional platter drives as frequently read data is pulled from the much faster SSD cache.With CacheCade 2.0 the SSD cache can write incoming data as well, a large bonus for write intensive apps.
Pictured above we see a product that is half WarpDrive and half MegaRAID. We're not sure if this has SAS 6G or SAS 12G but it is an SFF connector that easily connects to a backplane with drives attached and a WarpDrive cluster of SSDs. This merger of technology is going to make for the fastest cache system we've ever seen or for that matter even thought we'd see anytime soon. I don't even want to start guessing but we can easily say it's going to be very fast!
Related Tags