Google Music is now official, ditches beta label
Google Music store official, includes 90 second previews and 320kbps MP3 tracks.

Published Wed, Nov 16 2011 8:13 PM CST
|
Updated Tue, Nov 3 2020 12:30 PM CST
Google have just unleashed Google Music from its beta hold, and have also announced a music store that is built into the Android Market. Google Music is available to anyone in the US without an invitation requirement, and includes the ability to upload 20,000 songs to the cloud for free.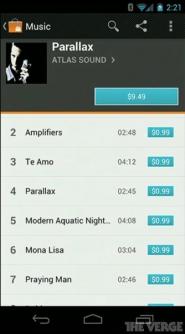 Google Music will have an app for Windows, Mac and Linux devices that will help you upload songs to the cloud, and the songs uploaded to the cloud can be either streamed or "pinned" for offline listening. The Android Market music store will include millions of songs, sortable by genre, sub genre, top albums, and top songs.
There are Staff Picks and a New Releases section, song prices range between $0.99 and $1.29 and every song is 320kbps MP3s with 90 second previews for each song. There will be a new free song every day and the first one is David Bowie's "Sound and Vision", Google have said there will be hundreds of free songs from the get-go. Big major labels have joined in, such as Universal, EMI and Sony music, as well as a number of smaller, independent labels.
Google claim to have over 1,000 labels and 13 million tracks with 8 million tracks available today. To the surprise of many, six never-before-released Rolling Stones concerts will be made available on Google Music (with one available now and the remaining five to roll out before the end of the year). Busta Rhymes will be debuting his new album exclusively on Google Music, with his new single coming today. Coldplay, Shakira, Pearl Jam, and Dave Matthews Band will also provide exclusive concerts.
Where Google have done it different, is "Artist Hubs", for musicians who want to make customized pages. Within Artist Hubs, they can upload and sell their music through Google, kind of like an independent label. There's just a $25 once-off "artist registration fee" but the artists get to control the pricing of each song with a split of 70/30, Google taking the smaller share.
Google+ integration is also another big part of Google Music, if you share a song with a friend, they'll be able to hear the entire song, not just the 90 second preview. Android 2.2 and above devices should start seeing the music store for Android as it rolls in over the coming days.
Related Tags