Leaked Sandy Bridge benchmarks, doesn't impress for gaming
Intel's Core i7 3960X vs. Core i7 2600K in Crysis 2 and Battlefield 3 - which one is the champion? Y.

Published Sun, Nov 13 2011 7:26 PM CST
|
Updated Tue, Nov 3 2020 12:30 PM CST
Intel's new Sandy Bridge-E flagship processor, the Core i7 3960X has been thrown through a handful of benchmarks by Chinese website Inpai.com. The benchmarks put the i7 3960X head-to-head against the Sandy Bridge-based i7 2600K.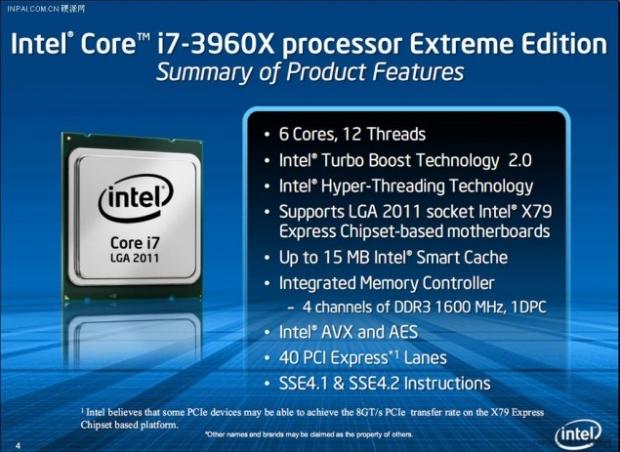 Intel's Core i7 3960X will be the bees knees of the Sandy Bridge-E series, featuring 6-cores and 12 threads clocked at stock clocks of 3.6GHz and 3.9GHz when using Turbo Boost. The chip uses a maximum TDP of 130W, features 15MB L3 cache and launches on November 14.
Inpai.com tested the i7 3960X and i7 2600K against each other in various benchmarks, such as X264 Benchmark, which saw the i7 3960X score 47.4 versus the 2600K's 37.21, a decent improvement. Cinebench sees a bigger improvement, with the i7 3960X scoring 10.4 and the 2600K trailing far behind with 6.92.
[img]2[/img] [img]3[/img]
Gaming benchmarks, this is what we want to know. How does it fare? Well, Crysis 2 at 1680x1050 scores 113.3 on the i7 3960X and the i7 2600K performs at exactly the same frame rate, 113.3fps.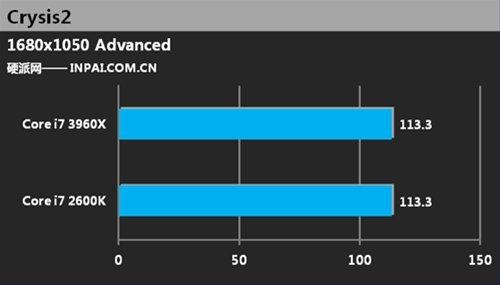 Battlefield 3 fares better on the i7 2600K strangely enough, the Core i7 3960X scores 78.6fps whilst the i7 2600K scores 79.3fps. Is this something we expected? Well, personally, yes. Games these days are very limited because of their creation on consoles. How a near 4Ghz chip with 12-threads is meant to help, is beyond me.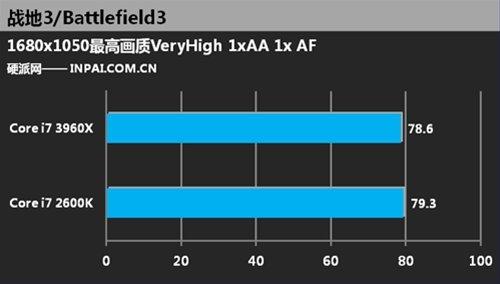 But, look at those leaked x264 and Cinebench results, wow. Impressive work, Intel!
Lastly we have Power Consumption, at idle the i7 3960X uses 97.4 watts of power versus 2600K's consumption of 68.9. Under full load, the i7 3960X consumes 277.7 watts versus 2600K's 169.9.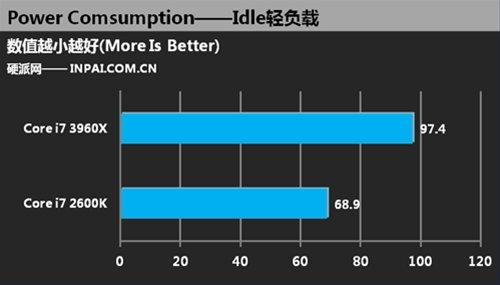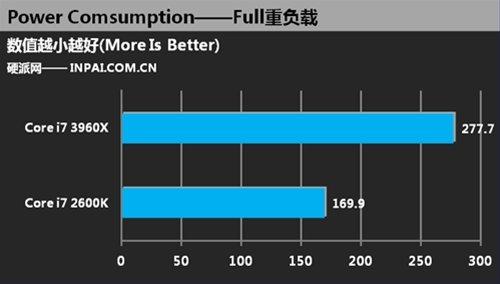 Intel has come through, tocking, once again and bulldozes through the benchmarks. I think we're seeing the stretch of what we'll see from CPUs in regards to games. Until games are written to really take advantage of the super-power CPUs we have, versus the weak CPUs of the consoles, we're not going to see huge leaps and bounds from CPUs in games anymore. That will be the Radeon HD 7000-series and GeForce GTX 600-series job.
Related Tags