RumorTT: NVIDIA's next-gen Kepler GPUs to hit before Christmas?
RumorTT: NVIDIA to drop GeForce GTX600-series before Christmas?

Published Sun, Nov 6 2011 6:31 PM CST
|
Updated Tue, Nov 3 2020 12:30 PM CST
This is what I like to hear! With NVIDIA currently on a roll with their Tegra range and Tegra 3-powered devices starting to roll out any day now (in the form of ASUS' Transformer Prime), we now have some GeForce-related new. Rub your hands together with glee! Rumor has it that NVIDIA are flushing the channel of 500-series GPUs, and should introduce some more price cuts soon.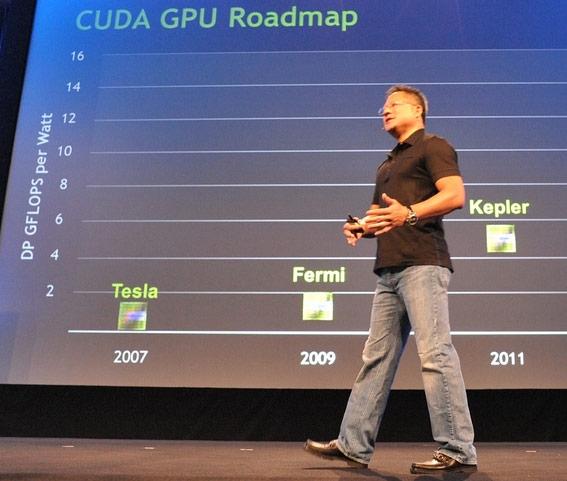 Price cuts on 500-series of GPUs has been happening slowly, but NVIDIA believes that their next-gen 'Kepler' GPU based on a 28nm process is ready and has a strong suspicion that AMD won't be ready with their 7000-series Radeon cards until after Santa does his rounds this Christmas. NVIDIA wants to push hard for a Christmas launch, and you won't hear any complaining from me!
NVIDIA could do a few things here, launch the 600-series before Christmas and use the promise of 'something more from NVIDIA, but it is not here just yet', to try and grab a few of those GPU fans that were leaning toward a Radeon-flavored GPU, and keep them licking that sweet, green NVIDIA pie. Then we have the bundles NVIDIA are pumping out with partners, bundling games such as Mafia II and Batman: Arkham City - this is great, and it keeps customers coming back.
But, we have an issue in the form of Microsoft's DirectX 12 coming out with Windows 8 in mid-2012. That will create an absolutely huge opportunity for GPU makers to push new cards for the new revision of DX, but will we need it? Currently, 99-percent of games on PC are console ports, and the only game that was built for PC first in the last few years is Battlefield 3. So, while NVIDIA can push as hard as they want for DirectX 12, it will mostly cater to the people who just want "the higher number because its better", not because there is some form of justification of it.
The PC gaming market needs to be fixed and NVIDIA and AMD need to push game makers to make their games for PC first; especially considering just how amazing Battlefield 3 looks thanks to development on PC first. Let's hope 2012 brings some form of change, or else we're going to hit a serious brick wall for GPUs, especially if 28nm does bring a near 50-percent performance jump or so. It would only benefit those running multiple screens (which is broken in BF3 anyway) or 2560x1600 users. Even then, what of the 700-series from NVIDIA? Games just aren't optimized for all the extra bandwidth, bells and whistles that the PC GPUs are capable of.
Related Tags