GIGABYTE X79 boards to have 3D UEFI setup program
GIGABYTE X79 boards to sport 3D UEFI.

Published Sat, Nov 5 2011 3:40 AM CDT
|
Updated Tue, Nov 3 2020 12:30 PM CST
GIGABYTE wants to have something that is more functional than the competitions' UEFI setup programs, and this is where GIGABYTE 3D BIOS steps up and into the ring to have a swing at things. When you hit DEL at POST to load up the setup program, it starts up the 3D BIOS home screen. On the home screen, you find a 3D rotatable image of your motherboard.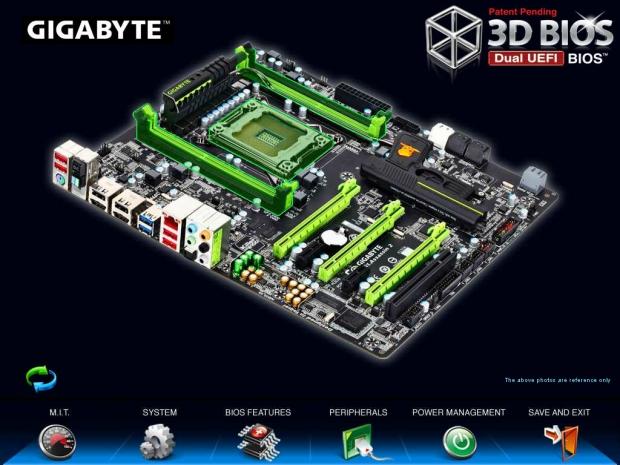 Cool, right? Well, you can use your mouse to spin the board around and check it out - certain parts of that motherboard image can be clicked to open up settings related to it. Let's say you want to click on the SATA ports on that image, click it and the program will open up SATA controller settings. Clicking on the memory slots brings up the memory tuning settings window. Very, very cool.
The visual elements all look spiffy, including smooth fonts, curves and lavish use of alpha. The fine tuning pages don't look like a re-skinned, mouse-enabled version of the old interface, but now include genuine GUI elements like sliders, tickboxes, radio buttons and tabs. A video demo of this is available below:
GIGABYTE are using an AMI UEFI backend, mixed with its own patented DualBIOS technology that protects against bad flashes.
Related Tags