Razer introed Synapse five years ago now, which let gamers store macros, key binds, and profiles directly into their Razer devices' onboard memory. Today, they've taken this one step further by introducing Razer Synapse 2.0, which allows your personalised peripheral settings to sit in the cloud.
While this won't help everyone, it will be a great thing for users such as tournament gamers, or those who use more than one computer for gaming. The problem is with this, is that people still have to take around their mouse and keyboard, with Razer hardware storing it inside the peripheral itself, cloud-based peripheral settings don't really have a need, but as I said, there are still uses for it.
Synapse 2.0 does however make the process that much easier, saving time on re-binding keys, etc and takes it all down to a simple login and sync process. The software will also automatically download drivers, game add-ons, and firmware updates to ensure your Razer hardware is always up-to-date.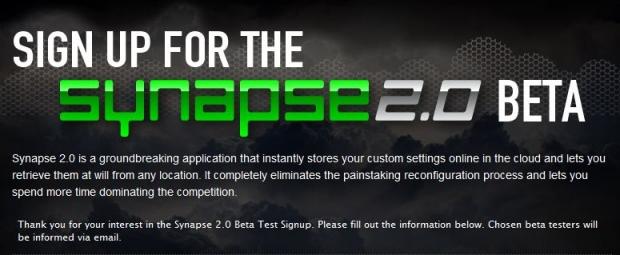 Synapse 2.0 is currently sitting in beta and Razer is offering 500 Razer Naga users the chance to test it out and if you want to do that, you can sign up for the beta right here. Synapse 2.0 will launch late this quarter and is said to work on 'all next-generation Razer devices', but 'select legacy products' such as the Naga will gain support, too.