Fusion-io intros new drives, ioDrive 2 and ioDrive2 Duo
Fusion-io launches ioDrive 2 - ramps up the storage industry.

Published Tue, Oct 4 2011 2:00 AM CDT
|
Updated Tue, Nov 3 2020 12:31 PM CST
Fusion-io have today announced the next evolution of their ioMemory platform for powering application acceleration and data center optimization. Fusion-io previously broke performance barriers when they released their first enterprise MLC products which dramatically enhanced reliability metrics for enterprise flash, and redefined server-side flash have done it again by introducing their new ioDrive2 and ioDrive2 Duo.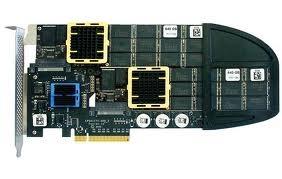 David Flynn, Fusion-io CEO and Chairman says:
Customers have grown to expect nothing but groundbreaking products from Fusion-io. Today, we are proud to raise the bar once more with the ioDrive2. Just as many competitors gauge success by Fusion-io performance standards, we developed the ioDrive2 to outperform the original ioDrive on all measures. Companies around the world trust ioMemory to supply critical data to their trading platforms, ERP systems, virtual environments, enterprise applications and databases, and now, they can rely on the ioDrive2 to accelerate even more of the data that powers our information economy.
New features on the ioDrive2 and ioDrive2 Duo include:
Nearly symmetrical read and write access with best in class low queue depth performance
Consistent low latency access for mixed workloads with 15 microsecond write latency, 3 GB/s bandwidth, over 700,000 read IOPS and over 900,000 write IOPS
Maximum capacity in the smallest footprint, with up to 2.4 TB of capacity to fuel server efficiency even in the most data-intensive environments
All new intelligent self-healing feature called Adaptive FlashBack provides complete chip level fault tolerance, which enables ioMemory to repair itself after a single chip or a multi chip failure without interrupting business continuity
System level integration with the latest Fusion-io VSL 3.0 software subsystem
More work per unit of processing with the cut-through Fusion-io architecture, which continues to deliver performance increases as CPUs become more powerful
Extended support for all major operating systems, including Windows, Linux, OSX, Solaris x86, ESXi 5.0 and HP-UX
Field programmability, allowing IT professionals maximum flexibility in customizing their ioMemory platform to meet the unique needs of their enterprise
Related Tags