GamesCom 2011 - Earlier on today at GamesCom 2011 here in Germany, Samsung held a press conference (albeit completely in German) where they debuted their newest notebook which of course considering the event is focused right toward gamers. After seeing great success with televisions and smartphones, Samsung is now trying to attack the gaming market with force.
The Series 7 gaming notebook is a 17.3-inch LED notebook using an Intel Core i7 processor, Radeon 6970M 2GB graphics, flash storage, Blu-ray optical drive, 1.5TB of HDD storage space and 16GB of DDR3 memory. The flash storage i.e. SSD is added on the motherboard itself and comes in at 8GB and is said to improve performance dramatically over a standard HDD... who woulda thought?!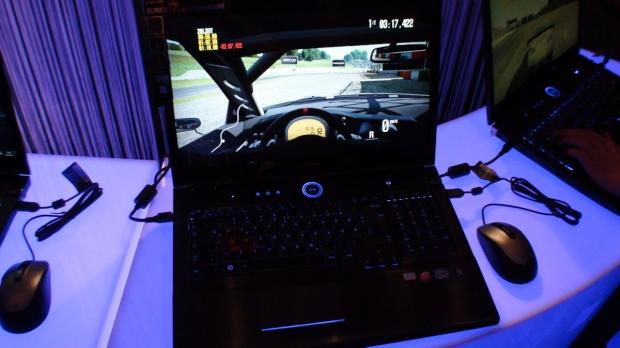 Besides all the high-end desktop replacement specs, the keyboard looks pretty impressive with blue backlit keys and the gaming focused WASD keys are backlit in red. There is supposedly too some fancy cooling in play with the Series 7 notebook, but it was discussed all in German and we didn't get a chance to quiz anyone about it. It's going on sale on September 12th in Europe with a street price of 1799 Euro.