USB 3.0 to provide up to 100 watts of power, capable of driving monitors, notebooks
Next USB 3.0 specification to include 100w of power.

Published Wed, Aug 10 2011 9:30 PM CDT
|
Updated Tue, Nov 3 2020 12:31 PM CST
The next USB 3.0 specification is set to deliver something pretty amazing, 100w of power to devices. What this will allow is much more power to devices that are demanding of power without additional power through USB ports or stand-alone power. The USB 3.0 Promoter Group announced that the new standard would allow USB 3.0 ports to power and charge devices such as notebook PCs and would remain backwards compatible with USB 2.0 devices.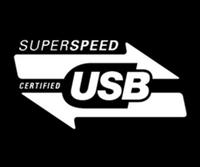 Currently, USB 3.0 can deliver speeds of up to 5Gb/sec to compatible products and also maintain currents and voltages up to 900mA at 5V for a maximum power output of just 4.5W. This was roughly double the maximum power output of USB 3.0 ports. The new USB 3.0 spec is more than twenty times its old power input and output and should set the industry on fire, allowing hungrier, more power-sucking products such as monitors, desk lamps and even notebook PCs to power from a single USB 3.0 port.
This would help in more ways than one, it would create an entire new market of products as well as clean up your desk and the tangle of cables leading to the power sockets on your wall. The USB 3.0 Promoter Group says that the new standard will be ready for industry evaluation at the end of 2011 and is set for release to manufacturers in early 2012.
Related Tags