Zombify Yourself With ZombieMirror AR+ iOS App
ZombieMirror app puts the aaaRRRRRRRRRRrrrrr back in "AR"
Published Mon, May 2 2011 3:10 PM CDT
|
Updated Tue, Nov 3 2020 12:31 PM CST
As of last Friday you could use augmented reality facial tracking to turn yourself into
Prince William or Princess Kate
, but
Aptronic
has done it again with their ZombieMirror AR+ iOS application for the iPhone 4 and iPad 2 (you need the rear-facing camera).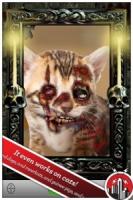 Yes, that includes Scruffy, the family Zombie. Er, I mean, cat.
Much like the Royal Wedding app (also by Aptronic), the ZombieMirror application utilizes the facial-tracking SDK of Paris / Los Angeles-based AR solutions firm T
otal Immersion
to recognize your face (or the face of a friend or random passerby- though I highly discourage trying to take photos of people you don't know) and overlay digital information on top of it- in this case, Zmobification awesomeness. You can also "configure" your Zombie visage to include or omit effects like
pockmarked cheek
,
dangling eye
, and, quite simply,
hatchet
- amongst other things.
Total Immersion's
blog
features this delicious snippet:
WARNING: in the event of a zombie apocalypse and your inevitable degeneration into zombiehood, ZombieMirror will only serve to make you an even freakier zombie. Please seek urgent medical attention in the form of a shotgun blast to the face.
Thanks guys, I'll add that to my contingency plan for the Zombie Apocalypse: "iPhone useless in combating zombies." Download the app
here
, and check out more photos after the break.
Related Tags