JISC Observatory
has released a brand-spanking-new whitepaper detailing the uses of Mobile Augmented Reality with smartphones. If you're a developer and/or content publisher (like myself) you're going to want to get your hands on this piece of literature, because it's chock full of nifty information regarding the creation of new interactive and immersive experiences.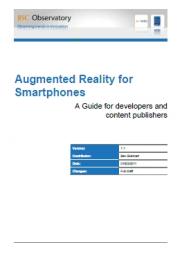 Even better, JISC isn't releasing the final version until May 6, so if you want to take a look at it and revise it or comment on what should and should not be there, they will take it into consideration. Who knows- your wisdom may make the final cut.
JISC originally commissioned the report, which was written by a one Ben Butchart of EDINA, based out of the University of Edinburgh. Check out the press release, and make your voices heARd.
Not so long ago, augmented reality (AR) was an experimental technology that rarely left the lab and required a high level of technical expertise and knowledge to create new applications. Now, thanks to advances in smartphone hardware, AR technology is much more available and easily accessible for users and developers alike.

A new state-of-the-art TechWatch report looking at Augmented Reality for Smartphones is now available for comment:
Augmented Reality for Smartphones (PDF).

The report was commissioned by JISC Observatory and written by Ben Butchart from EDINA, based at the University of Edinburgh.

It is primarily aimed at developers and content publishers who want to take advantage of the latest developments in smartphone and augmented reality (AR) technology to create novel and exciting new learning experiences. With several innovative young companies offering out the box AR "browsers" and tools for creating, publishing and hosting virtual content, it is even possible to create augmented reality experiences without any programming knowledge at all. Many new applications and frameworks have been launched, each with its own set of capabilities and requiring different levels of technical knowledge to publish content and customize the interface. This new report will help readers navigate the emerging landscape and pick out the best tools and platforms for their needs.

This report has already been peer reviewed by experts in this field. However the review process for this report also includes time for user-review of the document prior to formal publication and so we would welcome any additional comments readers have. Please post any comments you have in response to this post and they will be considered before the final version is released.

Comments will be open till Friday 6th May 2011. After that the final version of the report will be released.