Windows 8 built 7850 leaked, internet says 'do want'
Microsoft Windows 8 early build from September 2010 leaks, fans go crazy.

Published Tue, Apr 12 2011 10:30 PM CDT
|
Updated Tue, Nov 3 2020 12:31 PM CST
A build of Windows 8 has leaked and will become the first accessible build of the new Operating System from Microsoft that will be available to the public. Everyone has seen the leaked screenshots, as partners with access to Windows 8 builds on Microsoft Connect are slowly leaking stuff out - but this will be the first leak that anyone will be able to download.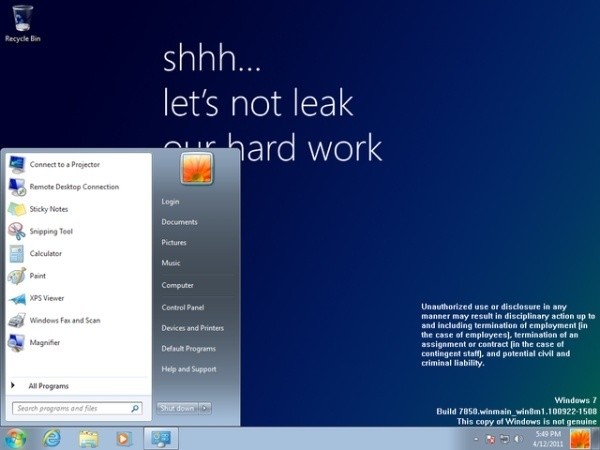 The leak has been posted on the BetaArchive forums and has been confirmed by numerous reputable sources that it is a legitimate build. Obviously from here, the people of the internets will post it on a public torrent tracking site and it will spread like crazy, to the point where even Crytek chief Cevat Yerli will be jealous of how many times it will get pirated.
Microsoft on the other hand, will hate that it's pirated but it also generates buzz to the point of insanity. The leaked build has the following file name: "6.1.7850.0.winmain_win8m1.100922-1508_x86fre_client-enterprise_en-us.iso."
What does this mean? It means that it is an old build, as it's from Milestone 1 which had screenshot leaks three months ago. The build string also indicates it was compiled on September 22, 2010. Because the leak is an older build, it won't include any of the cool new features like the native SmartScreen file checking, no build-in PDF reader, no Office ribbon in Windows Explorer, no new logon screen and no system reset feature.
Boo-hoo. Microsoft, where's my hook up?? Feel free to give me access to Windows 8 builds!
Related Tags