Amazon.com lets you play with Android virtual machine - try apps before you buy
Amazon.com features Test Drive, lets you try apps for Android devices before you buy.

Published Sun, Mar 27 2011 9:32 PM CDT
|
Updated Tue, Nov 3 2020 12:32 PM CST
Amazon's Appstore was unveiled last week but no one seemed to notice the Test Drive feature that could now become the biggest part of the new Appstore. Test Drive allows US customers to try Android-based apps before you buy them on Amazon.com - pretty great, huh?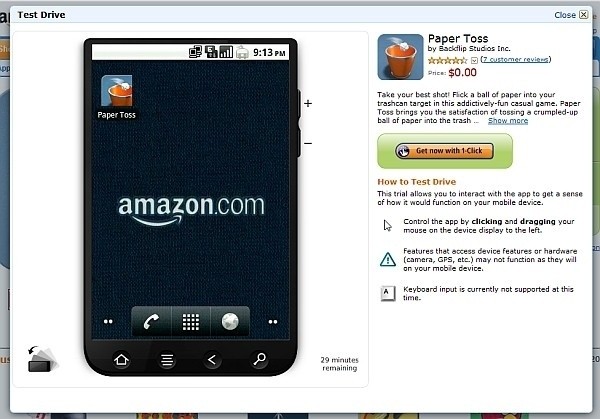 Test Drive actually features an entire virtual Android smartphone with working mouse controls, which is quite the feat and quite the service that Amazon.com are giving their customers. Test Drive allows you to try out games, delete said game, browse photos, listen to some music or even surf the web from the virtual Android device.
Amazon explains it as:
Clicking the "Test drive now" button launches a copy of this app on Amazon Elastic Compute Cloud (EC2), a web service that provides on-demand compute capacity in the cloud for developers. When you click on the simulated phone using your mouse, we send those inputs over the Internet to the app running on Amazon EC2 - just like your mobile device would send a finger tap to the app. Our servers then send the video and audio output from the app back to your computer. All this happens in real time, allowing you to explore the features of the app as if it were running on your mobile device.
Related Tags