The much hailed, aesthetically pleasing Smart Cover for the iPad 2 doesn't seem to be working as Apple would have you believe. Sascha Pallenberg of Netbook News was very displeased to find that the cover kept his iPad 2 neither clean nor protected after having purchased one at the recent SXSW Interactive event. He had been originally very enamored with the idea and with Apples' pervasive marketing campaign advertising the beauty and simplicity of the cover:
Apple announced the case with almost as much fanfare as it's vessel as the iPad 2 launch, and many have noted that it seemed like the event was tailored more to the various apps and accessories that the iPad 2 was bringing with it, including the HDMI-out cable, the new versions of iMovie and Garageband, and of course the array of Smart Covers specifically designed for the iPad 2.
Apple's website
is suspiciously vague on the subject of protection, touting the case's magnetic features as well as its folding capabilities. Netbook News's Sascha Pallenberg was very, very blunt in his analysis of the case, saying
It is a piece of crap.
In the video, Pallenberg complains that the material is very susceptible to outside dirt, noting that he had only carried the iPad 2 around in his bag at the SXSW Interactive Tech show, not "throwing it around" or anything. The video clearly shows lots of dirt and smudges on the outside of the case, but even worse is the evidence of dirt on the
inside
. A cover is not much of a cover if its inside facing is dirty. Despite the scratch-resistant high quality glass that the iPad 2 is sporting, no one wants their brand new post-pc device to look like this after a few days of use: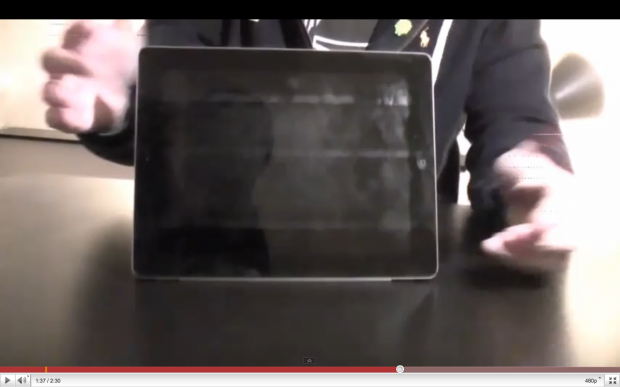 Though smudgy touch screens are common after continued use, what's really disheartening are the clearly visible smudge-stripes from the indentations of the folds in the covers. Pallenberg was quite vocal regarding his feeling for the cover, saying in the video:
This Smart Cover is, ah, I tell you what: It's smart for Apple to sell a piece of crap like this, because this should be goddamn cheap. I guess they're gonna, they're gonna make it for like 39 cents in China.
The latter half is a stab at the asking price for the "smart" cover, a whopping $39 for something that evidently doesn't behave that intelligently, especially not concerning tech hygiene. Full video below: