SpyParty: Everyone's Invited To It
SpyParty keeps you on the edge of your seat, whether it's gameplay or just waiting to find out when.
Published Thu, Mar 10 2011 1:37 PM CST
|
Updated Tue, Nov 3 2020 12:32 PM CST
If you haven't had the chance to play SpyParty yet, it's a combination of Metal Gear Solid and that one level that exists in every FPS where you only have a sniper rifle. But more classic.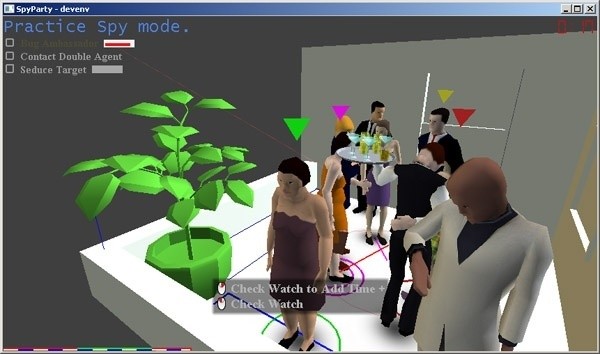 The IGF Seumas McNally Grand Prize runner-up (Minecraft won) was one of the most popular indie destinations at GDC last week, with people lined up to get in on the action. The game itself has a nostalgic arcade feel, but the gameplay is wonderfully and psychologically complex. One player is a Sniper, one is a Spy, and the former has no idea who the latter is. The Spy can blend into an entire dinner party of characters, and must complete a host of secret missions while simultaneously avoiding detection. This is difficult, because the Sniper has been "briefed" (i.e. the instructions to the game) on all of the "tells" a Spy could possibly evince. The Spy has the advantage of being able to see the laser-sight of the Sniper, and thus know where he or she is looking at all times. Catch is: there's a time-limit, so one of you has to make a move at some point.
Game Designer Chris Hecker has succeed in creating a smart, thrilling, psychological game. In fact, it's absurdly addictive, and the inherent violence of the game is described only though the sound of a silenced rifle shot and the screams of the other partygoers. No gore, no blood- nothing overdone. And the environment is so voyeuristic and immersive that you start to panic almost immediately. If you're playing in person, you are almost face to face with your opponent, who is either hunting you or trying to evade you- not a typical video-game experience.
"Screenwatching" would make a round of this game
quite
short, so it's best played online or with two back-to-back screens, even better if you can't see your opponent's face. Or maybe just their eyes.
Absolutely riveting.
Here's some video of Hecker and SpyParty's GDC booth from last week. You can hear one of the volunteers explain some of the finer points of the game. SpyParty's release date is TBA, but expect it to be available as a pay-download on the XBox Live Network. Price is also TBA. More information
here
.
Related Tags