NVIDIA GeForce GTX590, ready to take the dual-GPU crown?
NVIDIA set to launch their counter-punch-in-the-nuts dual-GPU, the GeForce GTX 590 on March 22.

Published Wed, Mar 9 2011 6:03 PM CST
|
Updated Tue, Nov 3 2020 12:32 PM CST
NVIDIA is set to launch their dual-GPU counter-punch-in-the-nuts GeForce GTX 590 on March 22nd. Coincidentally, this is the date of the Crysis 2 launch in which NVIDIA paid a pretty penny (to the tune of $2 million) for some flashy NVIDIA-only benefits. Although Crysis 2 is only launching with DirectX 9 - which is shocking considering the first game from four years ago launched with DirectX 9 and 10 modes.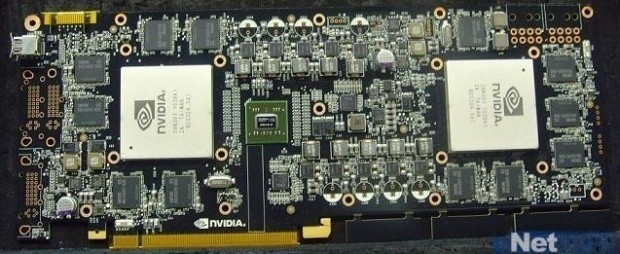 The GeForce GTX 590 uses two GF110 GPUs (the same as the GTX 570/580 cards), we can expect the GTX 590 to include 3GB of RAM and out-of-the-box support for NVIDIA's 3D Vision Surround and Vision Surround technologies (which are usually only for SLI users). The card is not far away and I'm sure that they're ready to strike while the iron is hot and I have full confidence it's going to be a great card.
*jumps in the air in his green bikini*
Related Tags